Research, fieldwork and changing the world
Who Me?
When I left school, I was determined to follow in my father's footsteps and started studying medicine. However, this wasn't the life for me and, after a break from university, I enrolled in a Science degree at the University of the Sunshine Coast (USC). One of my best ever decisions! Post-graduation I enrolled in an honours year, which brings me to where I am now.
My Research
Making information practically applicable is the role of 'extension'. However, transferring knowledge in an effective and efficient manner is highly dependent on cultural context. This is where my research comes in! There is often a disconnect between what 'we' think is best practice, and what the farmers actually do. So, my honours project has become a blend of agricultural and extension research aimed at improving outcomes for farmers in the Pacific Island region.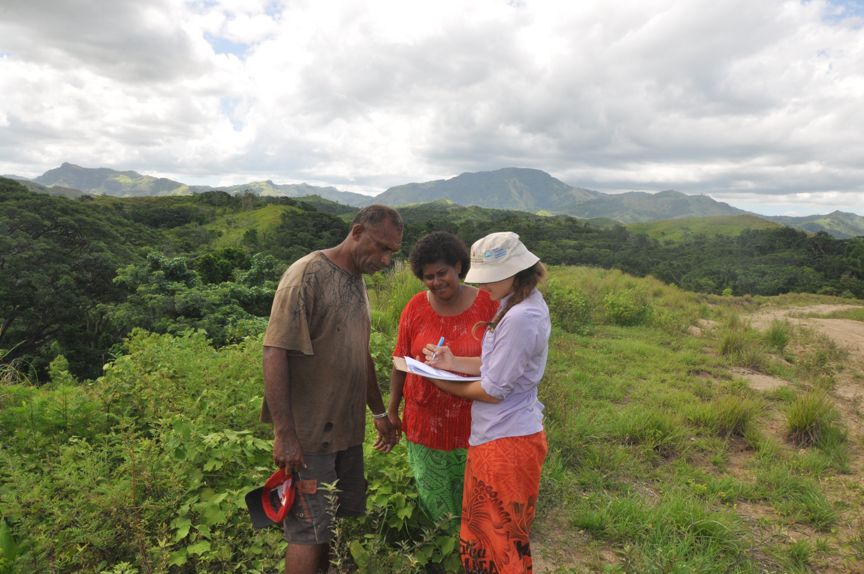 Driaba Village visit and organic certification. Entering one of the most rural and pristine parts of central Fiji, and surveying the land for certification. I labeled it 'The garden of Eden.' Also holding workshops with the women of the village on PGOS and certification.
The Wonderful World of Field Work
I set off, bright eyed and eager, ready to immerse myself in real world research for three months! Although I've had plenty of experience travelling, I had never been in charge of my own fieldwork. Who knew it involved coordinating contacts, budgeting, time management and, oh my gosh, the paperwork! Man, I finished up with more than just data to analyse, I gained a whole world of additional skills.
My field work included working in Fiji with the Pacific Organic and Ethical Trade Community and in Ratoranga with the Ministry of Agriculture and attending the International Fund for Agricultural Development (IFAD) 'Capacity Building for Resilient Agriculture' conference. All of this gave me so many amazing opportunities. For example, I learnt that the Cook Islands culture and traditions are based on an oral history, with stories conveyed through dance and song. Other lessons are passed down from generation to generation through working together. So, I spent my days scooting around (literally on my scooter, for which I had to get my Cook Islands motorbike license; very cool!) visiting farmers, working with them in their fields, understanding their experiences and their learning preferences. Farmers tought me things like:
"If you know how to grow, you will survive"
(Rarotongan Farmer; field work interview)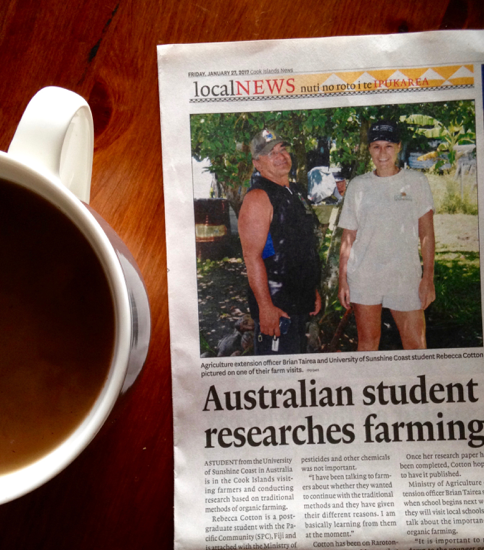 Rarotongan Newspaper. Due to the small size of Raro, you quickly attract attention. I was interviewed on the radio, on the tv for the evening news, and even made it to the local newspaper!
Reflections
I am only new to the agricultural development field. It has been an intense yet satisfying journey so far. My advice to those who follow, is that hoping to make a difference in the world isn't enough without determination, motivation and a big heart. A passion for travel and an ability to cope with bad weather, poor sanitation and inevitable delays and frustrations wouldn't hurt either! Never shy away from an opportunity, take on all you can manage but don't forget to have fun along the way. In my opinion, it is also important to make the time to enjoy and appreciate the country you're visiting – research can take you to some pretty unique environments!
The other, non-sexy part of research is the writing. Don't forget that all the amazing work you do on the ground, can only be of use, if you rigorously document your work. As I sit here at my desk (slight case of post-island blues), struggling to motivate myself to write, I remember all the people I met and the energy others gave to help me get to this stage of my research. Sometimes I think this part of field work isn't spoken about as much, when perhaps it's the hardest part. So again, my advice is to analyse a project in all its aspects, remembering that the 'fun' field work is only one part of the whole. With the travel comes the paperwork; and with the data collection comes the analysis. It's only with all the writing completed that we can finally change the world for the better.

View from the highest point in Rarotonga. Enjoying some time off hiking the trails across (literally North shore to South shore) the Pacific Islands.
For further information please visit the following websites:
http://www.organicpasifika.com/poetcom/
https://www.facebook.com/RaroOrganics/
https://operations.ifad.org/web/ifad/operations/country/home/tags/fiji