Publishing in Research for Development
I'm sitting in a hotel room in Kupang Indonesia on a warm, sunny Sunday and writing a blog about publishing scientific research – there has to be something wrong with me (I should be at the beach)!
On our current trip to Eastern Indonesia, Di Mayberry and I have had a chat about issues relating to publishing research from agricultural development projects. I am sure there are many who have shared frustrations that their institutions expect some scientific outcomes from their time overseas, yet it is difficult to get this work in a form acceptable in the scientific literature. I am by no means an expert, but have had a few successes in getting ACIAR research published, and thought some of these experiences and strategies might be worth sharing.
Concocting a story from a hodge-podge of data – I am sure many of us have had a bunch of experiments of varying treatments and results of varying quality that hang together loosely around a theme of research. Don't despair, it is possible to meld these into a story. The key is to formulate that theme into a question and sub-questions that can be pulled together in a way that it at least looks like it was designed that way from the outset. The introduction is key. Ensure it describes the key issues and the elements involved and why these are important – if you don't do this it will sink fast. Be honest about the purpose of the research and don't try to oversell it; it usually attracts undue attention. I would also advise on having a strong structure (complete with descriptive subheadings) that helps guide the reader through the metaphorical 'swamp'.
One example where we were able to scrape something together successfully was in our ACIAR project in China. Several small lucerne management experiments conducted by a series of Chinese Masters students and an AYAD doing his honours in-country was put together to identify some potential to improve lucerne production in the region (doi: 10.1111/gfs.12116). The paper certainly won't win the nobel prize, but we got it accepted in a good journal (eventually).
Mentoring & coaching your collaborators – In most cases our collaborators are also very keen to publish for their career and recognition, but often don't have the familiarity with the process to do this proactively. We found spending a few days in a trip to run a mini-workshop aimed at preparing elements of a paper was an effective way of getting some progress. In my experience you get far more progress in-person than once you leave and trying to give feedback via email.
Break the paper into sections and deal with them individually – it is less daunting to see only 2 pages of vast track changes than it is to have the whole manuscript covered in red. One of the big challenges here is to balance the feedback you give for your collaborator to address and 'just doing it yourself'. There is no simple answer here but give them a couple of goes at improving what they have written before 'tidying' up.
Be patient (even I can do this sometimes J) – I am currently working on a paper where the first draft was done in March 2011 (it is now April 2015).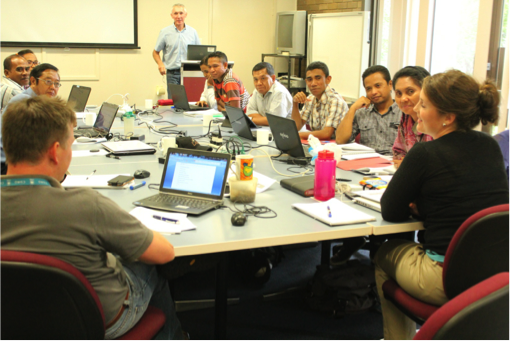 Workshops are a good way of focussing attention on paper writing and help group learning.
The explosive topic of authorship – From the outset it is worth establishing the expected author list – how you do this might vary from place to place and the culture of the workplace. It is also important to explore any local 'rules' when it comes to the author list – some common ones we have encountered include the 'senior' scientist is listed last or is made the corresponding author. This enables the person who has done the bulk of the work to be first author (as they should be). It is worth explaining what input is required to deserve authorship (so every man and his dog does not expect to get listed) – some guidelines below that I have found on a journal's advice to authors page might be helpful in that discussion.
"All persons designated as authors should qualify for authorship, and all those that qualify should be listed. Each author should have participated sufficiently in the work to take public responsibility for appropriate portions of the content. At least one author, 'corresponding author', should take responsibility for the integrity of the work as a whole, from inception to published article. Authorship credit should be based only on (a) substantial contributions to conception and design or acquisition of data, or analysis and interpretation of data, (b) drafting the article or revising it critically for important intellectual content, and (c) final approval of the version to be published. Distinction must be made between those who contributed as authors and those who should be named in Acknowledgements." Source: Health Promotion Journal of Australia,
It might feel somewhat frustrating to be listed as a junior author after contributing the better part of the effort in collating the publication, but ensure you have a prominent place on the author list.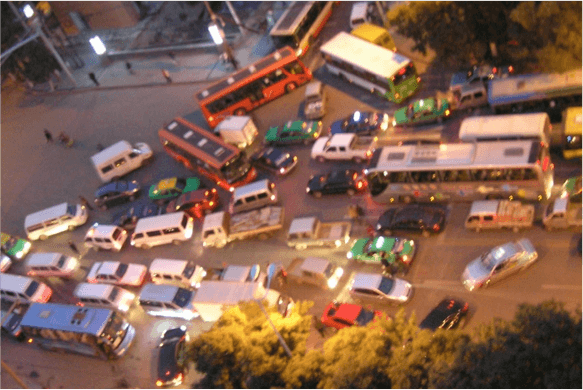 It is better if all the authors are going in the same direction to avoid some road-blocks along the way.
Finding the correct venue for the article – Finding the right venue for your work is challenging at the best of times. Sometimes there are local pressures to publish in their local journals which may not be internationally recognised. The flip side is wanting to publish in international journals when the quality of research is not sufficient. Conference articles are a good middle ground where collaborators can list them on their publication list and often allow for smaller parts of the broader research or less rigourous work to be recognised. A compromise can also be to publish parts of work in local language journals, but collate a more robust analysis in an international journal in English – this typically does not compromise duplicate publication, but it is worth checking.
The final step – Before allowing your collaborators to submit the article, I would always make sure you have given the final version a once over to make sure formatting and presentation are appropriate, tables and figures are neat and well labelled, appropriate captions are provided and simple grammar and spelling mistakes are avoided – in short get rid of the small stuff. Nothing raises the attention and ire of reviewer more than a manuscript that is not professionally presented – this is the crack in a door which could rapidly let the flood gates open. Also help with the preparation of the cover letter and response to reviewers, sometimes some subtle text here can make this process smoother.