My Little Secret
I decided I wanted to be a vet after spending a week in a clinic during year ten work experience. I watched with delight as the veterinarian removed dog's testicles and pulled out cat's teeth. I thought this is what I wanted to spend my life doing.
Fast forward five years and I was half way through vet school. I can't remember a specific moment when this happened because I don't think there was a specific moment; it just kind of crept into my brain subconsciously, gradually. The inconvenient truth had made itself known: I didn't want my whole career to take place in a veterinary clinic.   I was too scared to tell anyone at first, I kept my thoughts to myself. I thought it was completely ridiculous to do a CT scan on a dog or administer chemotherapy to a cat. Don't get me wrong, I love animals. I am one of those people that bores colleagues with stories about how intelligent my cat is, when compared to 'normal cats' and I can't guarantee I wouldn't do anything to give her an extra 6 months of life, if it came down to that. But deep down, when I was learning about chemotherapy protocols for cats with lymphoma, I felt like there was one key point that was never raised; an animal for all its glorious attributes and unconditional love is not a human.
For the last couple of years of vet school, I didn't really tell anyone my little secret. Then came graduation and whilst my classmates busily searched for clinical jobs, I took a job flipping burgers on a construction site. I guess some people started to speculate that I might be hiding something. I worked in a food van with bain marie and potato cakes and 'battered savs' for six months with my veterinary degree. On reflection, I was probably a little bit over qualified.
It was during my time at 'The Cool Cafe' (which wasn't really that cool), that I thought about going overseas. One google search late, through a hideously bad phone line, out the back of 'The Cool Cafe', I arranged a six month volunteer placement with 'ElefantAsia', a French NGO dedicated to providing care for domestic elephants in Laos. I was taking off my hamburger flipping apron and moving to Laos to be an elephant vet. My classmates found it ridiculous. I found it exciting.
So with the cash in hand I had saved from working at 'The Cool Cafe', I headed to Laos. I spent twelve months there; twelve months that changed my life forever. I met a lot of elephants, but also a lot of people. It turned out my veterinary degree wasn't a waste of time; I have some knowledge that can help to feed people that are hungry. I have some skills that can make a difference. However, the time there also taught me that there were a lot of useful things I don't know (that might come as a surprise to my husband!) and skills I don't have.
I returned to Australia and spent two years 'doing time' in small animal practice (always a temporary skill development exercise in my mind) and I now work in Animal Health and Food Security at ACIAR (Australian Centre for International Agricultural Research) and am doing a Masters in Veterinary Public Health Management.   I come across a lot of vets working in animal health research for the purpose of international development now and this makes me immensely proud of the veterinary profession and its role in poverty alleviation. Now I don't know why I kept my little secret for so long.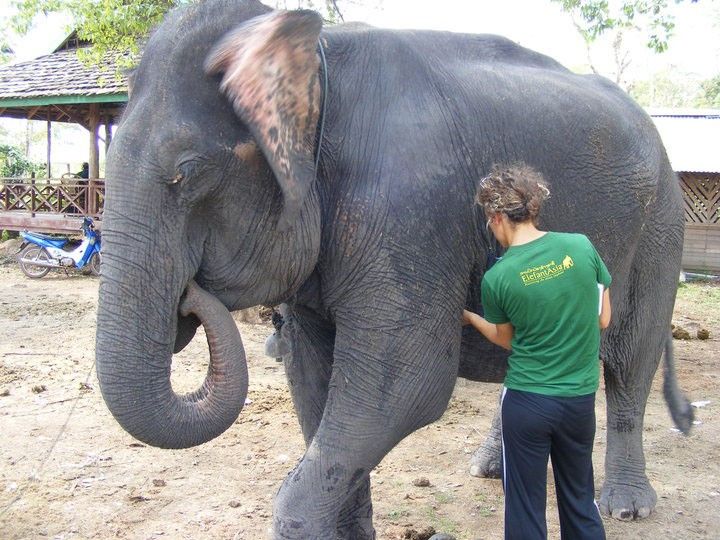 Being an elephant vet in Laos. One domestic elephant engaged in logging or tourism can often provide income for several families.