Getting MAD in Vietnam… Part 1
By: Tiago Silva and Priscilla Gerber
Two Brazilians entered a plane on the way to Vietnam… Yes, I know it sounds like the beginning of a joke. Far from that, this was actually the beginning of a learning adventure for me (Tiago Silva) and my colleague Priscilla Gerber. We both recently started on our roles as project scientists on ACIAR funded projects aiming to increase the productivity of small ruminant systems in Fiji and Samoa, and Lao PDR at the University of New England (UNE). In our roles, we will be collecting repeated data at animal and property levels in several locations in those countries.
This research challenge led us to take the "Digital Data for Research Workshop", gratefully funded by the Crawford Fund, focusing on mobile acquired data (MAD) using CommCare, in Hanoi in mid-October. The workshop was organised and delivered by RAID's old mates David McGill, Jenny Hanks and Khizar Hayat. A large and diverse group from Master students to Professors attended the workshop. David and team did a great job in bringing everyone up to speed, covering all aspects of survey design, app building and testing, and data analysis.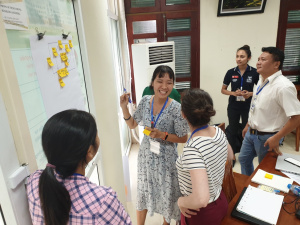 Photo 1: Trang (Hanoi Uni of Public Health) working with Priscilla (UNE, Armidale) on mapping out the research process with input from Nhung (Vitenam National University of Agriculture), Hoa (Nat. Inst. Animal Sci) and Shayal (Uni of Melbourne).
For both of us, the most remarkable part of the training was the field trip to collect data from real farmers on their production systems using tablets, or getting MAD in Vietnam. I was very excited about the opportunity of visiting and talking with a local farmer. I think other workshop participants were also excited about this!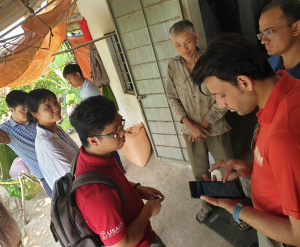 Photo 2: Atta (University of Veterinary and Animal Sciences, Lahore) using a tablet to collect data from a local farmer with translation support from Luong (Hanoi Uni of Public Health).
At the same time, I didn't think I'd see anything new in terms of production systems and therefore wouldn't learn a great deal. I couldn't be more wrong! The farm we visited proved that even with modest investments, complex and efficient systems can be achieved when using simplicity, knowledge and creativity.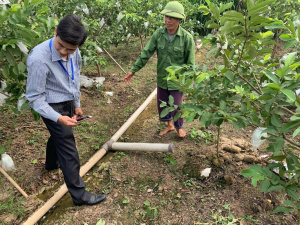 Photo 3 : Farmer (Kien Nguyen Trung) explains his farm system, whilst researcher (Van) collects the data. This is his guava plantation which has been fertilised by manure from his cows.
Back at the University, we wrapped things up with a plan for how we could use digital data collection in our own projects.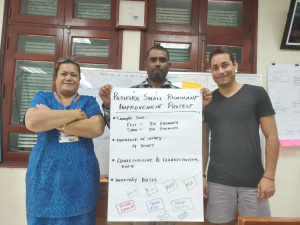 Photo 4: Donna (Samoa), Ronil (Fiji) and Tiago (UNE, Armidale) sharing their plans for using CommCare within their small ruminant projects across the Pacific. 
The workshop provided us with some useful lessons, not just from the trainers, but from other researchers in the room and putting what we had learnt into practise by interviewing farmers.
Priscilla's biggest lessons were:
Questions developed for a paper survey don't always translate well into CommCare and that the process of building an app forces you to think more deeply about your questions. Old wisdom would say to do the hard work first!
Testing your survey multiple times before piloting it in the field is essential for ensuring engagement with the farmer and smooth data collection.
Atta from Pakistan, (pictured above) told us his biggest lessons were:
Gaining new interactive skills and methods for conducting sessions that involve people and maintain their interest.
I learned about different research activities going on in other projects also working with small ruminants. This will surely help us out while starting a new trial or study in our project.
Living and learning in Vietnam, for our research around the world!