Episode 5: 10 minutes with… Peter Windsor
Current role and organisation: Professor Emeritus, Faculty of Veterinary Science, University of Sydney
How did you get involved in research in agriculture for international development?
I reckon I was always interested in agricultural R4D since my early boyhood on family farms in the Riverina region. I was perplexed by the knowledge that all the food we could produce in Australia wouldn't solve the horrible inequity of starving people in less developed countries. To me it was clear that our agricultural and especially livestock skills had much to offer the world, although there were no real opportunities for me to help advance this cause until well after I finished my BVSc in 1976 and PhD in 2007. In 1992 and 1993, I was asked to provide training courses in disease investigation for young veterinarians in Indonesia (in the Eastern Islands Veterinary Services Project with NSW Agriculture). This provided a later opportunity to spend 19months in the Bicol region of the Philippines, contributing to the successful eradication of FMD (with The Food and Agricultural Organisation of the UN). The contacts and hands-on experience gained with my FAO work, assisted my efforts to develop animal health and production projects with ACIAR (Australian Centre for International Agricultural Research), conducting my first SRA (short research activity) in 2005 that identified the potential for beef production in Asia by enhancing the value of animals that were used as asset banks or for draught. The SRA provided the trusting relationships with local counterparts that then led to our large co-learning R4D projects on cattle and buffalo productivity in Laos and Cambodia from 1997-2012. We then developed 3 new projects for these two countries that commenced in 2015 and are providing mainly field-based research to Mekong livestock developments during a period of enormous change in SE Asia. See https://mekonglivestock.wordpress.com.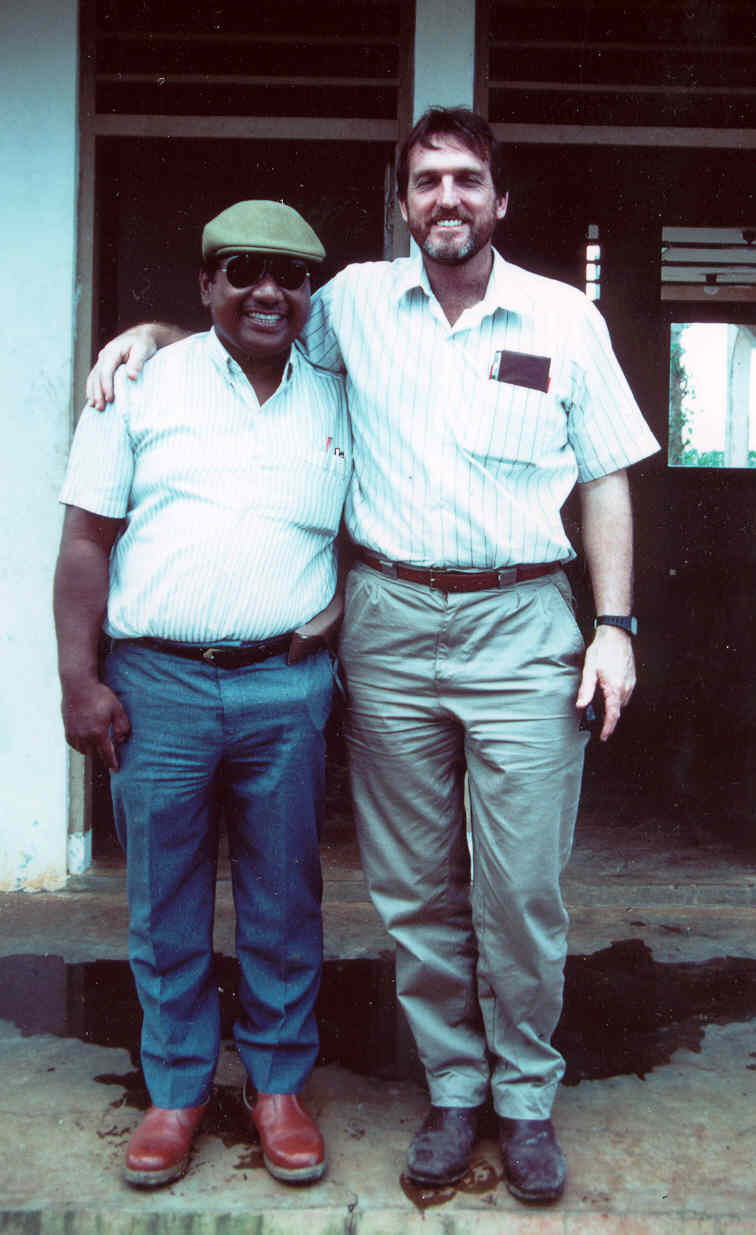 Photo: With Indonesian veterinarian Ronny at a disease investigation training course in Dili in East Timor in 1993.
What is your favourite aspect of this work?
There are so many rewarding aspects to our work, but it is hard to beat the appreciation shown us by poor smallholder farmers proudly displaying their fattened large ruminants that are now keenly sought by international traders because of their superior weight, body condition and disease freedom. In very close second and third places, would be witnessing the enormous skills and knowledge gained by our postgraduate students, and our provision of applied research opportunities to in-country and Australian students to work together in significant R4D projects in the Mekong (particularly since we obtained the New Colombo Plan travel funding).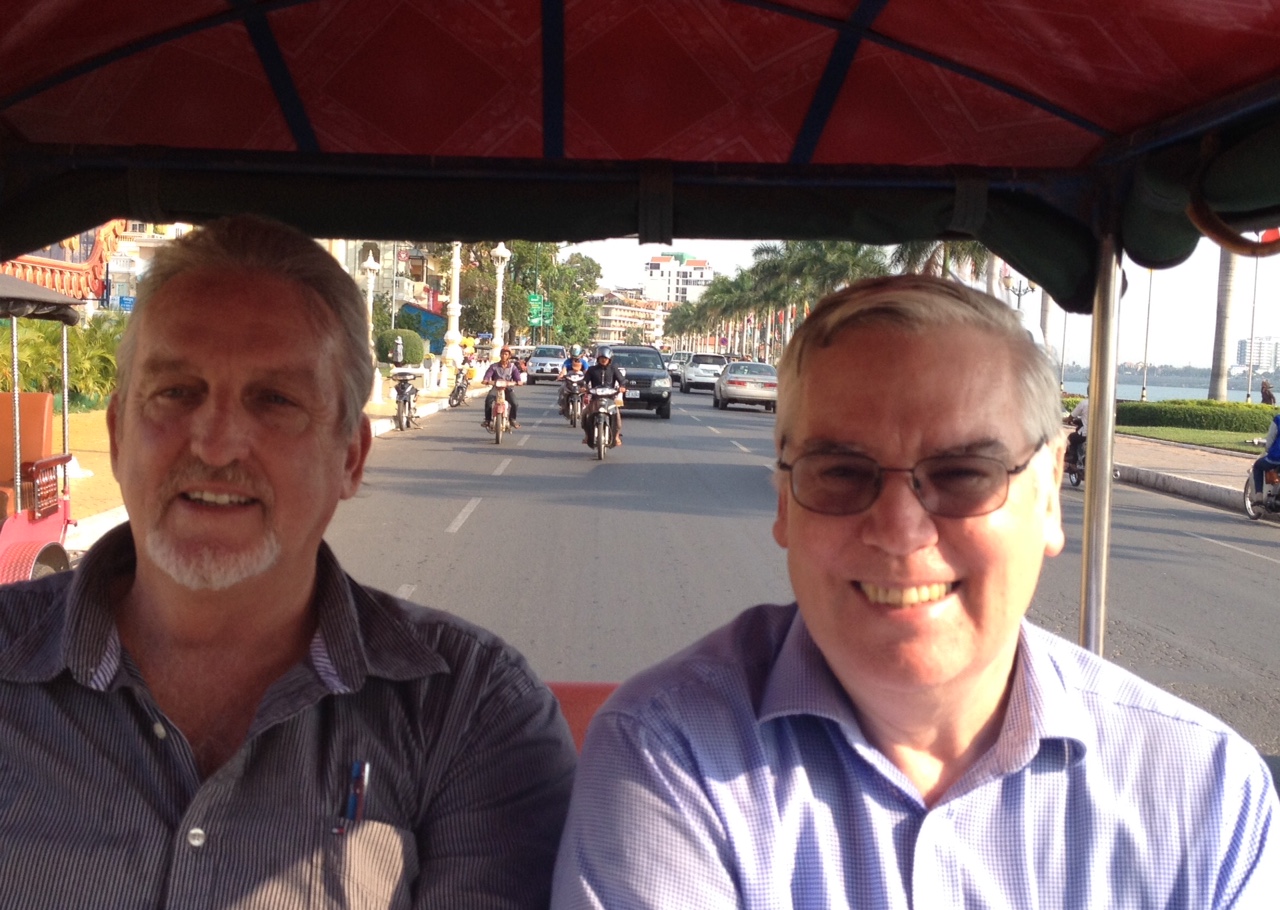 Photo: In a Tuk Tuk in Phnom Penh in 2015 with Mike Nunn, ACIAR Program Manager Animal Health.
Biggest achievement?
Probably contributing to eradication of FMD in the Philippines and helping with it's control in Laos, although I am also proud that our work has contributed greatly to an understanding of how to address food insecurity in rapidly developing nations in our region, by providing a substantial published knowledge base of over 26 refereed papers on a diverse range of aspects of large ruminant health and production (with welfare in-progress).
Photo: Teaching the local provincial veterinarian in Catanduanes Island in the Philippines how to tail bleed a buffalo (carabao) in 1998 for FMD serosurveillance
Challenges?
The biggest challenge in R4D is to manage the multitudes of relationships (including the critical review processes) needed in delivering mutual benefits to both our developing neighbour nations and the donor country, the Australian government (people).
Advice for younger researchers:
In my opinion, it is essential to have passion, patience, a love of cultural diversity, a sense of global citizenship and enormous flexibility, accepting that we are guests in the country of our collaborators. We are there to advise and assist, never to do all the work because we might sometimes think we can do it better.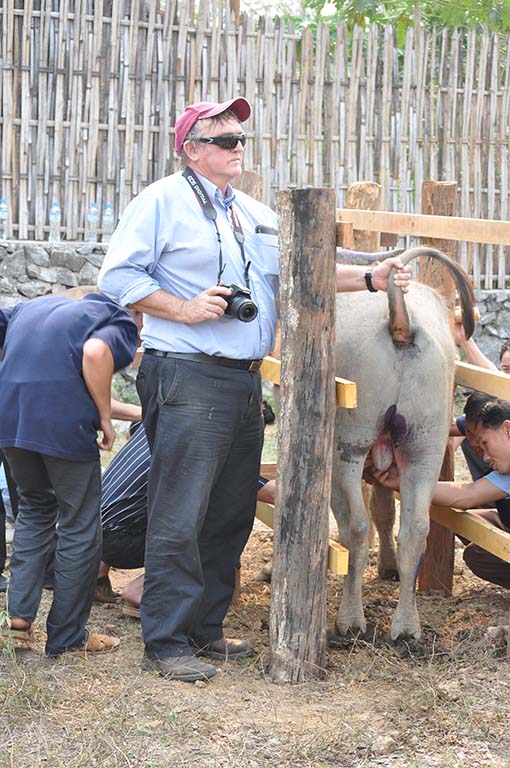 Photo: Teaching clinical examination of buffalo to local PAFO and DAFO staff in Luang Prabang Laos in 2011.