5 up and coming agricultural R4D scientists to keep an eye out for
For National Science Week 2016 Australia's Chief Scientist, Dr Alan Finkel, is calling on all Australians to get to know the names of at least five living Australian scientists. To celebrate this RAID has profiled five up and coming Aussie scientists working in international agricultural R4D – and they are Jessica Bogard, Caspar Roxburgh, Julia de Bruyn, David Gale and Anika Molesworth… Enjoy!
Jessica Bogard – linking nutrition, agriculture and the environment
Current position: Jessica is a nutritionist doing her PhD at The University of Queensland's School of Public Health alongside the CSIRO Global Change team. She is researching the role of fisheries and aquaculture in contributing to improved food and nutrition security in developing countries, using Bangladesh as a case study. Through her PhD she has focused on linking the disciplines of nutrition and public health, agriculture and environmental science.
She became passionate about this topic through her work with WorldFish in Bangladesh, working with fisheries experts, agriculture specialists and economists, all working towards the common goal of eliminating hunger and poverty. She worked on several food security projects, investigating the nutritional value of the many indigenous fish species in Bangladesh, and strategies to use such local nutrient-rich foods to improve nutrition among mothers and young children.
Favorite thing about working in international agricultural research for development: The opportunity (and necessity!) to work with people from many different disciplines, this can be both challenging and rewarding. "It's also an incredible experience to work in different countries, learning about the people, their cultures and history".
In 10 years' time: Jessica hopes to be continuing research for development work, linking agriculture, nutrition and health, particularly in the Pacific region. And most of all, she hopes to have contributed to improved nutrition outcomes in the communities where her research is based.
Check out Jessica's RAID blog:
Blog – Do more fish equal better nutrition? 
Learn more about Jessica's work:
Research – ResearchGate 
Jessica working with a rural community in Bangladesh, adapting traditional recipes to improve the nutritional quality of complementary foods for infants and young children, using small indigenous fish
Caspar Roxburgh – increasing food security in Mozambique
Current position: Caspar is a PhD candidate at The University of Queensland (QAAFI) working on improving maize yields in Mozambique. Caspar studies the diversity in management and yield on farmers' own fields and then identifies best-management practices and tests their effects on crop yields. The 'best management' he identifies can then be used by poorer-performing farmers in the community to increase their food security and economic empowerment.
Caspar's work is multidisciplinary by nature. He uses group discussions and one-on-one interviews to learn about farmer practices and uses field experiments and crop systems simulation models to test new management ideas. By studying farmers' own knowledge and best practice, he aims to provide communities with ready-to-use and relevant ideas. Caspar spent over a year of his PhD living in Mozambique and trained several local agricultural students during his time in the country. His work has identified improvements which lead to a 50% increase in food production without any additional cash or labour requirement.
Favorite thing about working in international agricultural research for development: Being in an environment where problem solving is an everyday activity you never know what will go wrong next – it keeps him nimble, agile and innovative!
In 10 years' time: Caspar hopes to run his own agricultural development organization specializing in smaller-scale management and technological improvements in Southeast Asia and Southern Africa. He also hopes to contribute to wider debates around addressing global hunger and the food crisis.
Learn more about Caspar's work:
Twitter @cwroxburgh
UQ news – Colour-code to translate benefits 
Research – ResearchGate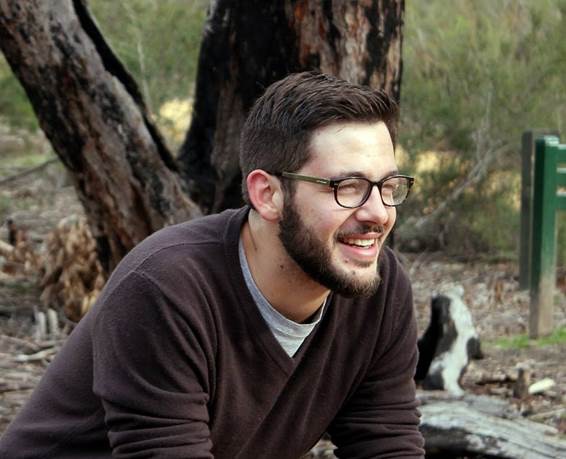 UQ PhD candidate Caspar is working to improve maize yields on smallholder farms in Mozambique
Julia de Bruyn – changing the world, one egg at a time
Current position: Julia is a veterinarian, PhD candidate and research assistant at the University of Sydney. She is currently part of a multi-disciplinary research team exploring the potential for livestock and crop interventions to achieve sustainable improvements in human nutrition, in Tanzania and Zambia. Julia's PhD focuses on the impact of community-based vaccination programs against Newcastle disease in village chickens on the diets and growth of young children.
Favorite thing about working in international agricultural research for development: The opportunity to use knowledge and skills to work collaboratively – with communities, stakeholders and other researchers – to find solutions to complex global challenges! "Research aiming to guide sustainable approaches to meeting the nutritional needs of a rapidly-growing population is an exciting area to be working in".
In 10 years' time: Julia hopes to have seen the evidence base supporting the impact of agricultural interventions on human health outcomes grow. She hopes that the village chicken populations of Central Tanzania have expanded and local households are seeing financial and nutritional benefits. By this time, the >500 infants and young children participating in her PhD project will be approaching adolescence!
Check out Julia's RAID video and blogs:
Video – Vaccinator training in Tanzania 
Blog – The African Chicken Project
Blog – How will you be celebrating world egg day 2015? 
Learn more about Julia's work:
ACAIR project – Strengthening food and nutrition security through family poultry and crop integration in Tanzania and Zambia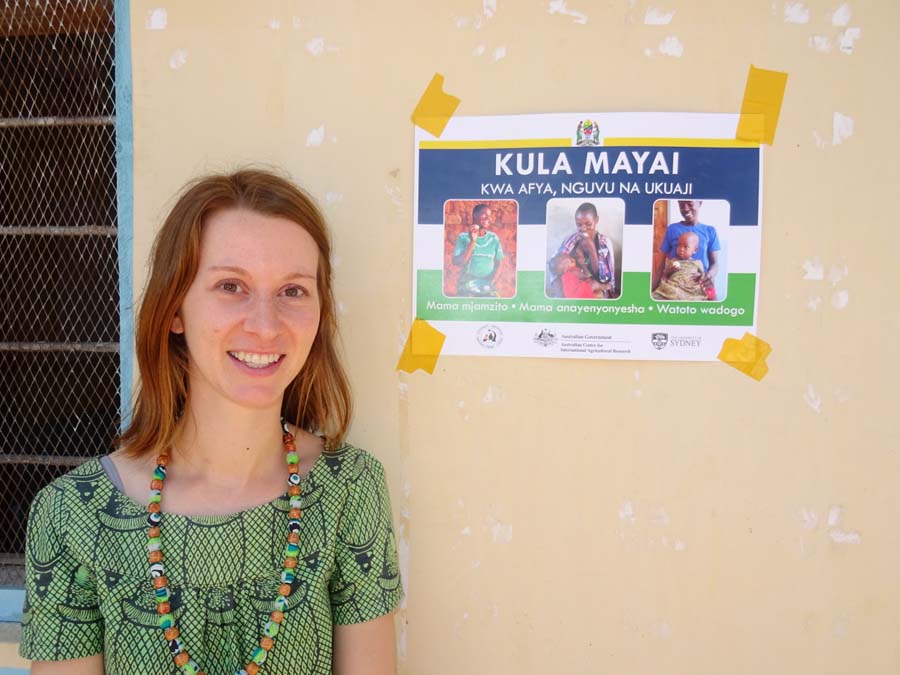 Julia outside the community office in Sanza Ward, Tanzania, alongside a poster promoting the consumption of poultry products by pregnant women, breastfeeding mothers and young children ("Eat Eggs. For Health, Strength and Growth.")
David Gale – saving the soils of Vietnam
Current position: Dave is a postgraduate researcher at Charles Sturt University, working on a project to improve agricultural productivity in a naturally hostile soil using a waste product from sugar manufacturing.
Favorite thing about working in international agricultural research for development: The people – from farmers who offer small cups of tea or rice wine, to enthusiastic students and staff at the university who will buy you a coffee for the opportunity to practice their English for 15 minutes, as well as locals in the street who want to welcome you and include you in their lives.
In 10 years' time: Dave hopes to be living in a developing country managing one or more community based agricultural or horticultural research project.
Check out Dave's RAID blog:
Blog – The old and new; comparing working styles in Vietnam 
Learn more about Dave's work:
Project – The potential of compost to ameliorate metal toxicities and increase phosphorous availability in Vietnamese and Australian agricultural production systems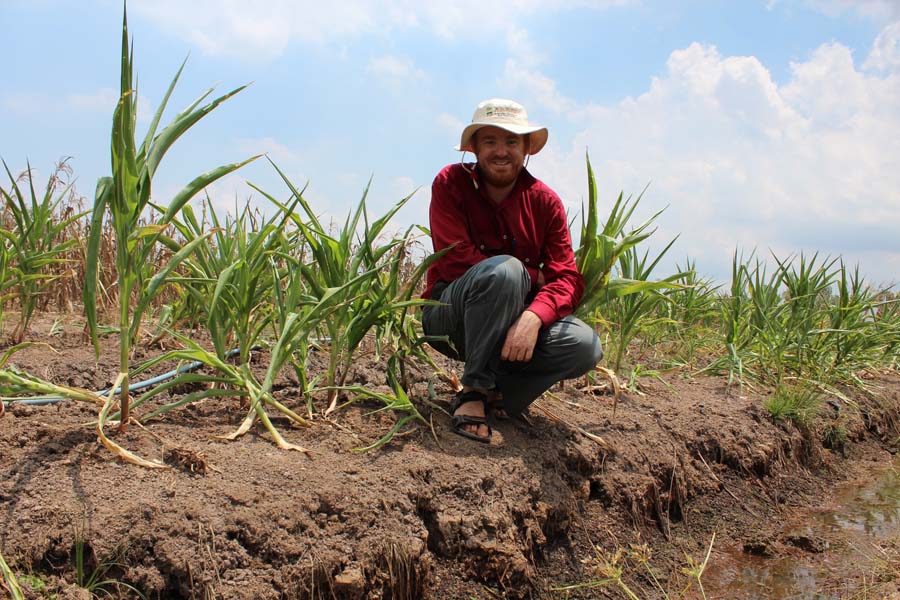 David working in Vietnam assessing the potential to ameliorate metal toxicities and increase phosphorus availability
Anika Molesworth – Young Farmer of the Year and champion for Australian and international agriculture
Current position: Anika is a PhD candidate at Deakin University researching organic soil ameliorants to improve soil fertility and water management, conducting trials in Australia, Cambodia and Laos.
Anika is passionate about international agricultural research for development, because she believes those involved in this industry are making a meaningful contribution to food security, the protection of natural resources, and the vibrancy of rural communities. She loves learning about different cultures and farming systems around the world – no two days are ever the same – "a career in international agricultural research can be challenging, but it is always exciting, dynamic and highly rewarding."
Favorite thing about working in international agricultural research for development: The people she encounters. "You meet with world renowned scientists, collaborate with local agricultural officers, and visit farmers who welcome you into their homes. These people always leave me humbled and optimistic of the future."
In 10 years' time: Anika hopes to still be working as an international agricultural researcher, and would love to own a farm herself one day. "Agriculture is my passion. I hold great wonder for the natural world and a great inquisitiveness in how humans interact with it. Producing food to feed a growing global population with reduced environmental footprint is one of the defining challenges of our time – and I feel so lucky to be part of finding the solutions."
Check out Anika's RAID blogs:
Blog – Integrated livestock systems in Laos 
Blog – Jumping puddles in paddy fields 
Learn more about Anika's work:
Twitter @AnikaMolesworth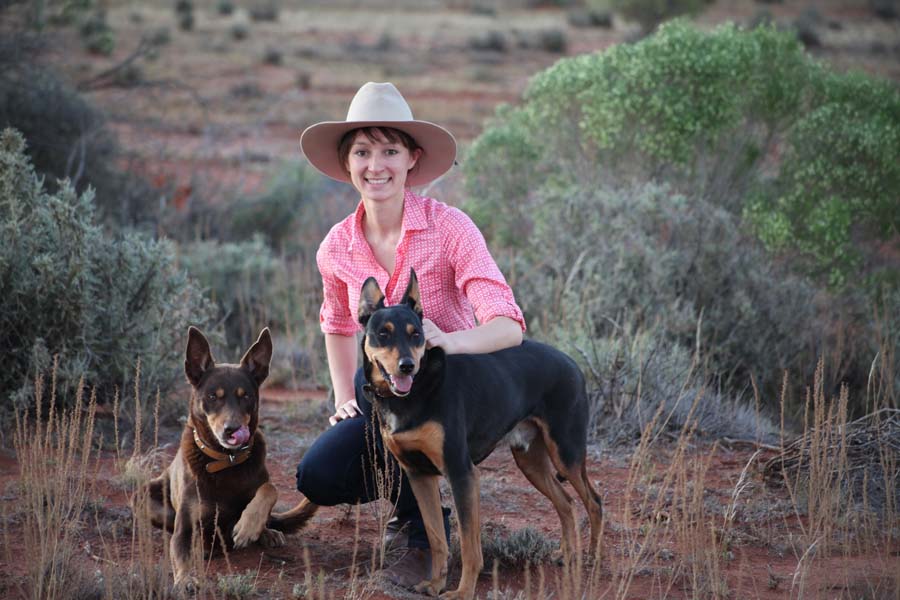 When not wading through rice paddies, Anika spends as much time as she can back at her family's outback sheep station. The red sand country a stark contrast to the tropics.