RAID in Retrospect Photo Competition
The circumstances over the past year has resulted in a number of challenges and opportunities for those within the agriculture for international development space. It is because of these changing times, that it is important that we reflect on the amazing work that those involved in ag for development have been involved in over the past few years.
RAID is excited to announce their first ever "RAID in Retrospect" national photo competition, which aims to celebrate and foster appreciation through photos for the wonderful Research for Development work our RAID members are a part of globally and in Australia. 
The competition is NOW CLOSED but stay tuned for the 2021 RAID photo competition announcement.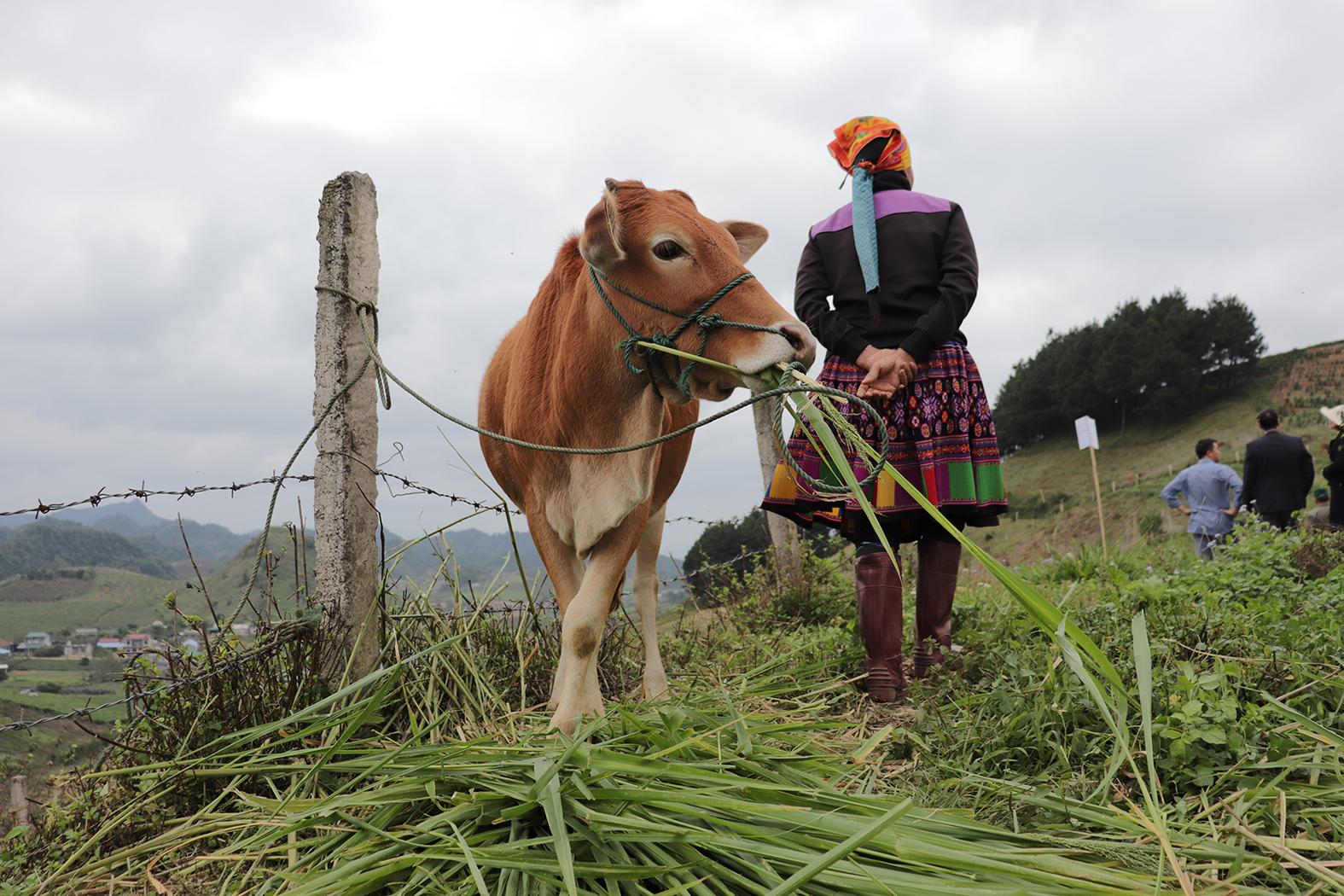 What are we looking for?
RAID members are invited to enter original, visually striking images that tell a story about their agricultural research for development work. The types of images from these fields that may be entered include (but are not limited to):
Women and youth in agriculture
Sustainable landscapes and changing climates
Farm to market
Crop systems and horticulture
Fisheries and aquaculture
Livestock
Forestry
Not sure if your entry is eligible? Contact events@crawfordfund.org
Who can enter? 
The competition is open to current RAID members currently residing in Australia – membership is free and you can JOIN NOW!
Entrants must be individuals, not a company or organisation
Prizes 
Grand prize
$500 camera shop voucher (of your choice)*
Runner up prizes
$250 camera shop voucher (of your choice)*
People's choice
$250 camera shop voucher (of your choice)*
Judging Process and Criteria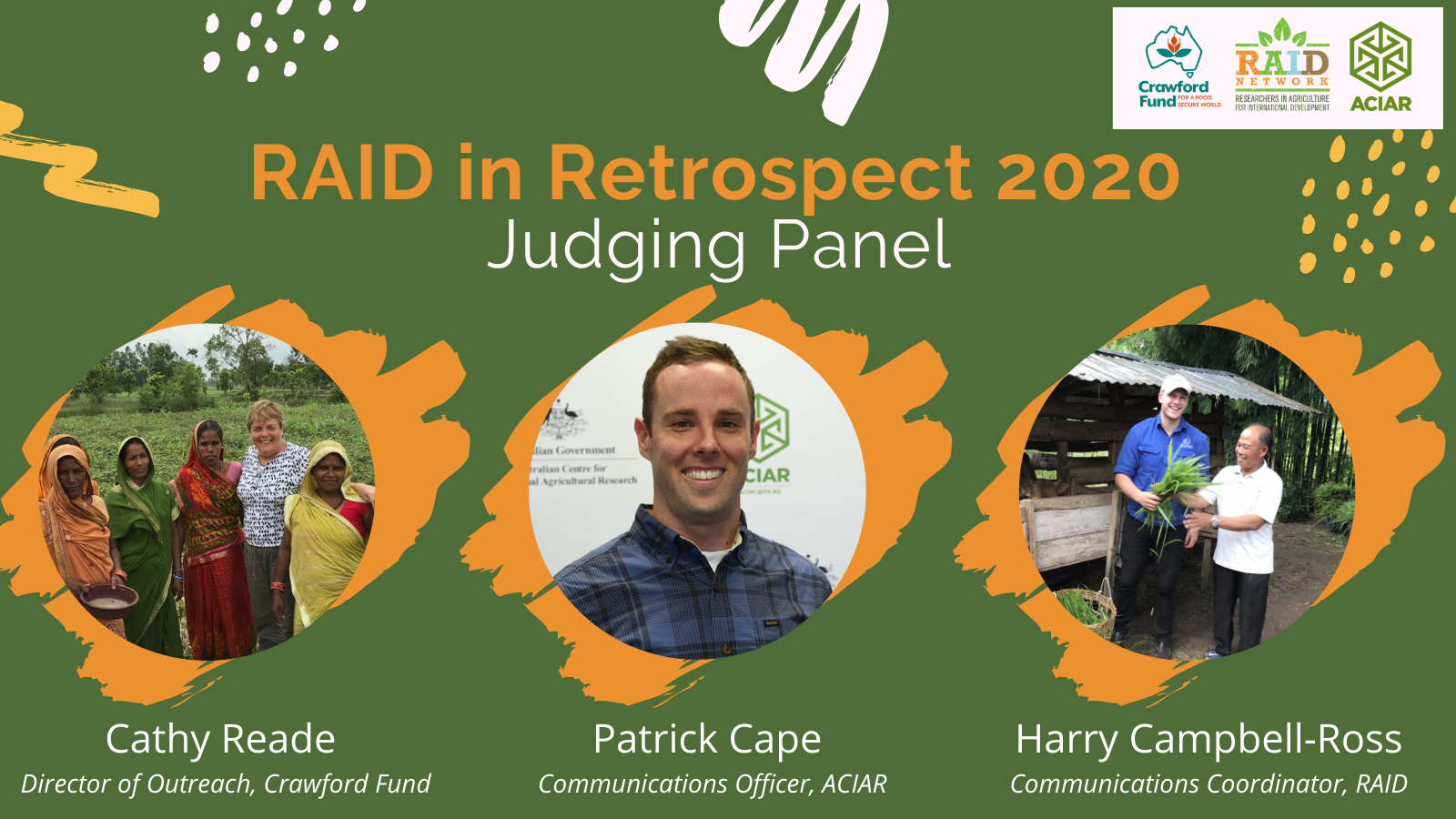 There are three awards that can be won in this competition:

A Grand Prize – awarded for the photo judged to be the BEST in contest
A Runners up prize – awarded for the photo judged to be the next best in contest
People's Choice Award – awarded for the photo judged to be the best by the public

The judging panel (above) will judge the received entries and determine the winner of the Grand Prize and the Runner Up Prize.
For the People's Choice Award, the judging panel described above will select the top 10 photographs (excl. Grand prize and Runner up prize winners), and they will go out to the online public vote.
Each entry of the 2020 RAID in Retrospect Competition will be judged by a panel of judges nominated by RAID.
The judging panel will choose winners using the following criteria:

Originality and creativity
Informational content, particularly the explanation of research importance/impact connected to the image
Visual impact
Submission Details
Entrants must submit an entry form for each image – ENTER HERE
Entry Guidelines 
Entries submitted after the closing period will not qualify for prizes.
Entry to the competition is free
Entries must be photographic images that illustrate, represent, support and celebrate agricultural research for development work
Entries must have been taken in the last 3 years
Entries must be the original work of the entrant.
Entries that have won awards in other image competitions are not eligible for the RAID in Retrospect Competition
Entrants can submit a maximum of three images.
Uploading images:

Accepted image files include: PNG, JPG, JPEG, PDF, TIF
Files must be high resolution to allow reproduction in printed format, as well as display on social media platforms (min of 5MB, max 15MB). Low resolution images may not be accepted.
Minimum image resolution of 300 dpi and size of 1000 px
Must include the title, location where the photo was taken, a brief description less than 280 characters and a summary of the less than 150 words describing the importance and/or impact of the research it relates to. This material may be used in social media and blog posts.
Copyright, privacy and legal conditions
Entries must be in accordance with these Terms and Conditions, the instructions set out in this document. By entering the Competition, each entrant agrees to be bound by these Terms and Conditions. RAID may refuse to award any prize to any entrant who fails to comply with these Terms and Conditions.
Images must not infringe on the rights of any third party. Any images with children require the entrant to have gained verbal or written consent from a responsible adult for obtaining and sharing the image.
By entering participants give RAID the non-exclusive licence to use or reproduce the entry and any personal details provided in any social media or print media for promotional, marketing or publicity purposes without notice or fee. Your photo will always be credited to you.
RAID takes no responsibility for any entries that are lost, delayed, or misdirected.
The winners for each category will be notified by email using the contact details provided before they are publicly announced on the RAID website and social media channels on 5 December at 9:00am AEST.
* The winner of the prize will select a camera store to receive a voucher from. RAID will then purchase the voucher and provide it to to winner. The competition winners will provide details of selected camera store within 90 days of being notified as the winner. RAID Network reserves the right to withhold the allocated award where the intended use is considered as unsatisfactory.