Life for smallholders during COVID-19
Thursday 27 August 2020  –  1:00pm AEST  – 

Register Now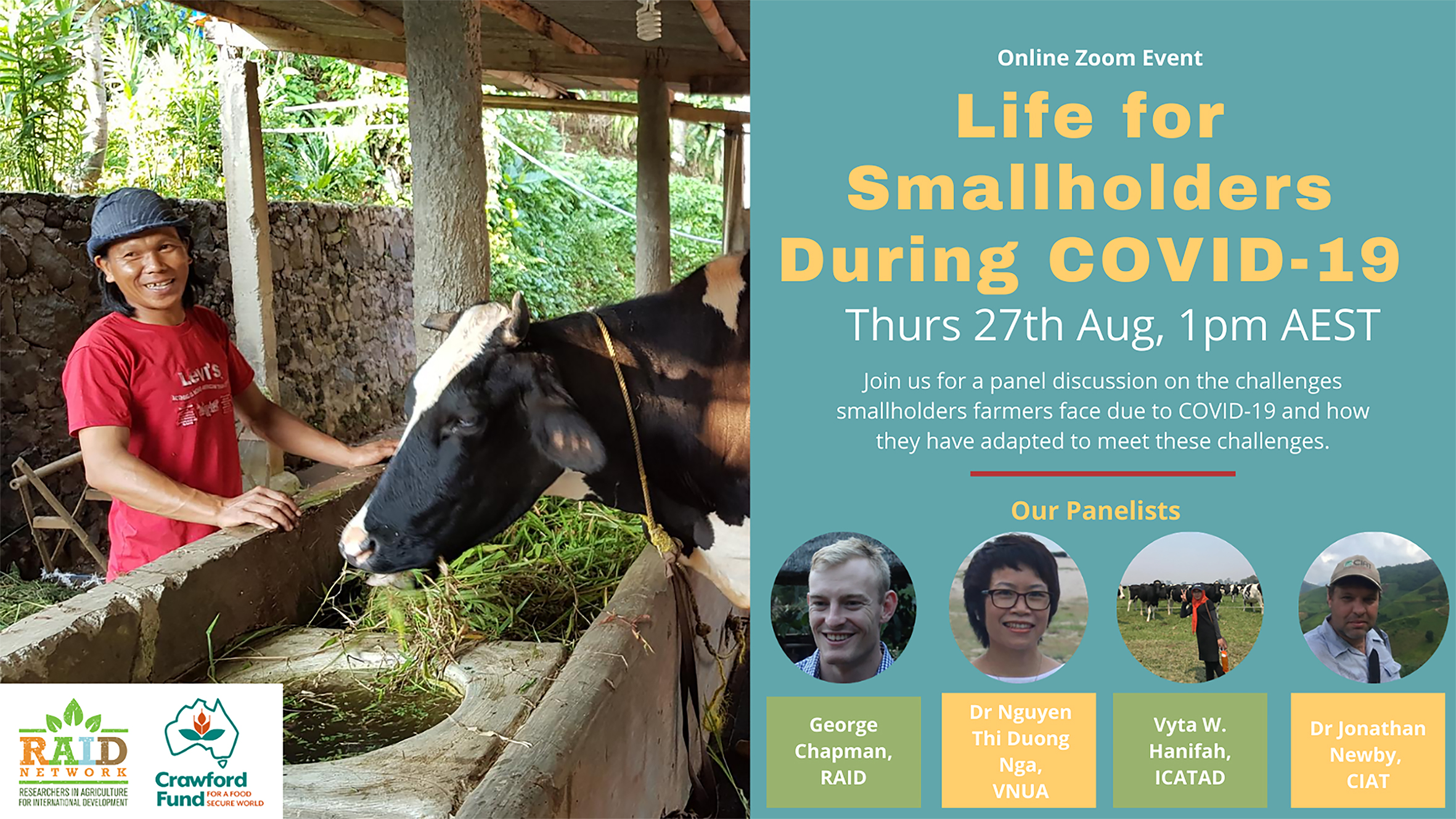 Join us for a panel discussion on the challenges smallholder farmers face due to COVID-19 and how they have adapted to meet these challenges. Our amazing panelists are:
Dr Nguyen Thi Duong Nga, VNUA
Dr Nguyen Thi Duong Nga graduated from VNUA in 1997 in agricultural economics, then pursued master and PhD program in the University of the Philippines Los Banos and received her PhD degree in Agricultural Economics in 2006. She was promoted to Associate Professor in 2018 in economic field. Her research interest includes agricultural value chains, agricultural marketing, consumer's behaviour, animal and crop production, and impact assessment. She is experienced in working with several international organisations such as IRRI, ILRI, FAO and has been working in vegetable and fruit value chain, and especially meat value chain with ILRI and UTAS since 2012 in Vietnam.
George Chapman, RAID Network
George hails from a Tea Tree farm in Northern NSW and is currently living in Armidale, NSW. He is pursuing his Master's thesis on an ACIAR project looking at improving small ruminant (sheep and goat) production and extension approaches in Fiji. Whilst previously working for ACIAR as a grad, he was a part of a small team which conducted a 'rapid assessment'on the immediate impacts in which Covid-19 had on smallholder farmers and subsequent food systems.
Vyta W. Hanifah, ICATAD
Vyta W Hanifah is a researcher at the Indonesian Center for Agricultural Technology Assessment and Development (ICATAD) under the Ministry of Agriculture. Vyta is currently working on the ACIAR-funded IndoDairy project (AGB/2012/099), supporting the delivery of the extension activities. Previously, Vyta has worked on many other international projects including the ACIAR project titled "LPS/2008/038: Improving reproductive performance of cows and performance of fattening cattle in low input systems of Indonesia and northern Australia'.
Dr Jonathan Newby, CIAT
Dr Jonathan Newby (Jono) is an agricultural and rural development economist with 15 years experience working in Southeast Asia on a range of agricultural development and livelihood projects. After graduating from the University of Queensland with a Bachelor of Natural Resource Economics, he spent four years working for the Australian Bureau of Agricultural and Resource Economics (ABARE). In 2013 he joined the International Centre for Tropical Agriculture (CIAT) as part of the cassava program. The ACIAR Cassava Value Chain and Livelihood Program had sites in Vietnam, Indonesia, Lao PDR, Cambodia and Myanmar. Dr Newby is currently the Regional Coordinator of CIATs Cassava Program and Country Manager for 'Alliance of Bioversity & CIAT' in Lao PDR.