2021 Cross Cultural Collaboration Workshop
25 May 2021
to
22 Jun 2021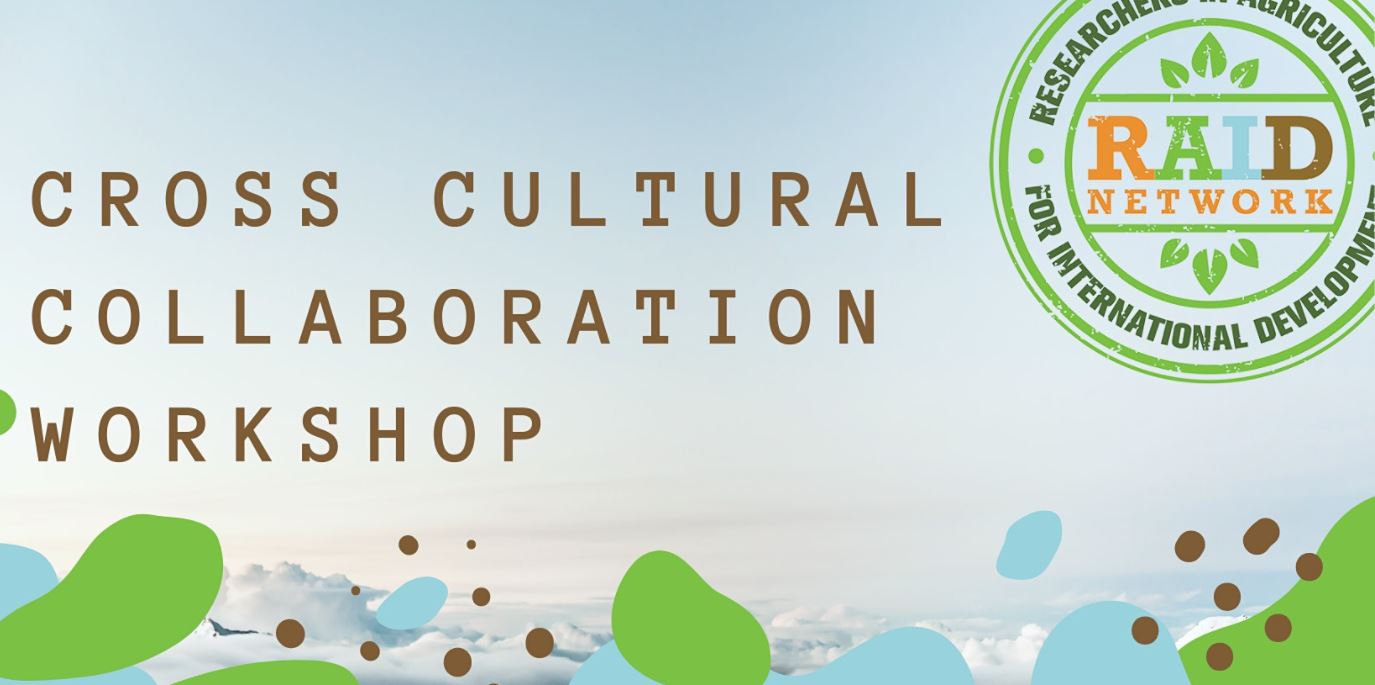 RAID's Capacity Building Team invites YOU to participate in our 2021 Cross-Cultural Collaboration Workshop
About this event
Early to mid-career researchers (EMCRs) working in agriculture for international development often face a number of challenges working on projects in rural areas and/or in diverse nations.
Poor cross-cultural management and communication skills create barriers for EMCRs to effectively work in teams, collaborate with governments and the private sector, and to support next users (farmers, extensionists, value chain participants, government officers) to achieve their project objectives.
This workshop will provide you the insight and resources to assist you to understand positionality, unconscious bias, balancing power dynamics, value of cross-cultural knowledge in project design, building trust, and effective communication approaches.
Join us across five weeks, as we unpack these topics, and what it means for YOU!
---
25 MAY 2021 – 2:30pm-4:30pm
Positionality with Tanya Jakimow (ANU/ACIAR)
In this session you will learn tools to understand and operate effectively in the 'field'. The research for development field is comprised of multiple actors, relationships and power dynamics that shape research outcomes, short- and long-term partnerships, and the well-being of team members. You will learn how positionality (an understanding of our positioning within this complex terrain) and reflexivity (reflective practices to read the 'field') improve the quality and success of research projects, as well as help us develop as better team members and team leaders.
1 JUNE 2021 – 3:00pm-5:00pm
Understanding Cultural Differences with ACIAR Country Network
This session will dive into why acknowledging and understanding cultural differences, nuances and intersections is important in the context of forming partnerships and relationships in a R4D context. Some practical tips and tricks around building trust and open communication will be explored and discussed.
8 JUNE 2021 – 3:00pm-5:00pm
Communication with Bisnis Asia
This session will introduce some general lesson about culture, the key differences between Anglo-Saxon and East Asian cultures, and how this impacts the way we communicate, build trust and get things done. Through interactive scenarios we will learn about cultural differences in play, stimulate reflection and embed the learnings. We will focus on creating self-awareness and the ability to identify when culture might be affecting a researcher's ability to effectively engage and build trust.
15 JUNE 2021 – 3:00pm-5:00pm
Collaboration with Shaun Coffey (Crawford Fund)
This session will consider why and how participatory engagement can be used to design projects in multi-agent, multi-cultural settings. Practical approaches to co-design/collaboration, and tools/tips for effective engagement will be developed.
22 JUNE 2021 – 3:00pm-5:00pm
In the Field with The Syngenta Foundation
This session will include a recap of previous sessions learnings. Key learnings from this session will be developed around country specific case studies from India, Kenya and Africa.
---
TICKETS $50 for ALL 5 SESSIONS – BUY TICKETS HERE
---
What will I be required to do?
Join us for the 2-hr sessions each week. These will be delivered online via Zoom and you will receive the link each week prior to the session.
Every participant will receive a digital workbook with access to session outlines and extra resources.
Each session provides an opportunity for you to apply and consolidate your learnings to your individual case study.
Case Studies
You are required to come prepared with a case study. Ideally this is an international project that you are currently are working on.
If this is not possible, you may bring a case study that you are developing, or have worked on in the past.
A template outline for your case study will be provided in the workbook and will include:
Project Title:
Country:
Project Aim (1-3 sentences):
My role in the project is (2-5 sentences)
Got Questions?
Contact raid.capacity@crawfordfund.org
Meet our Facilitators

Associate Professor Tanya Jakimow is an ARC Future Fellow, School of Culture, History and Languages, College of Asia and the Pacific, ANU. She is an anthropologist of development working in India and Indonesia, with an interest and specialisation in the micro-politics of development contexts. She has previously been a team member of large interdisciplinary teams on ACIAR and DFAT funded research projects (rural livelihoods), and more recently has led research teams to examine topics such as community-based development and women's political participation.
The ACIAR Country Network is comprised of locally engaged staff located across the Indo-pacific region and is a vital link between Australian and international researchers and the in-country research agencies. The Country Network supports partner research institutions to develop, establish and administer research collaboration and capacity building activities. Our country network staff develop and maintain the strategic directions of investments with in-country partner agencies.
Brett McGuire, is Bisnis Asia's principal and our Indonesia expert, having more than fifteen year's experience working in Asia. He has worked in both public and private sector organisations, helping foreign entities navigate the environment in Asia and guiding them in managing diverse situations.
Shaun Coffey has been administering research, development, commercialisation and extension for over 40 years. He is responsible for training in the Crawford Fund. He is an agricultural scientist by training and has worked in multi-cultural settings for most of his career.
The Syngenta Foundation for Sustainable Agriculture (SFSA) is a non-profit that aims to improve the livelihoods of smallholders in developing countries. SFSA's vision is a bright future for smallholder farming. Its mission is to strengthen smallholder farming and food systems by catalysing market development and innovation, while building capacity across the public and private sectors.
SFSA has teams in Senegal, Mali, Nigeria, Kenya, India, Bangladesh, Indonesia, Myanmar and China, with its head office in Switzerland. Through partners, it also works in further countries, notably Ethiopia, Uganda and Cambodia.
In its pursuit of innovation, SFSA puts great emphasis on diversity of viewpoints and experiences. This commitment to Diversity & Inclusion increasingly permeates all the Foundation's activities.