Travel plans gone sideways… pt 2
This blog comes off the back of a previous blog in which I wrote about some of my experiences of traveling overseas during my time at ACIAR. Part 1 looked at my travels to Malaysia and Indonesia. This blogs delves into my travel to Fiji and Vanuatu. 
Trip 3 – Fiji
"Attention to detail"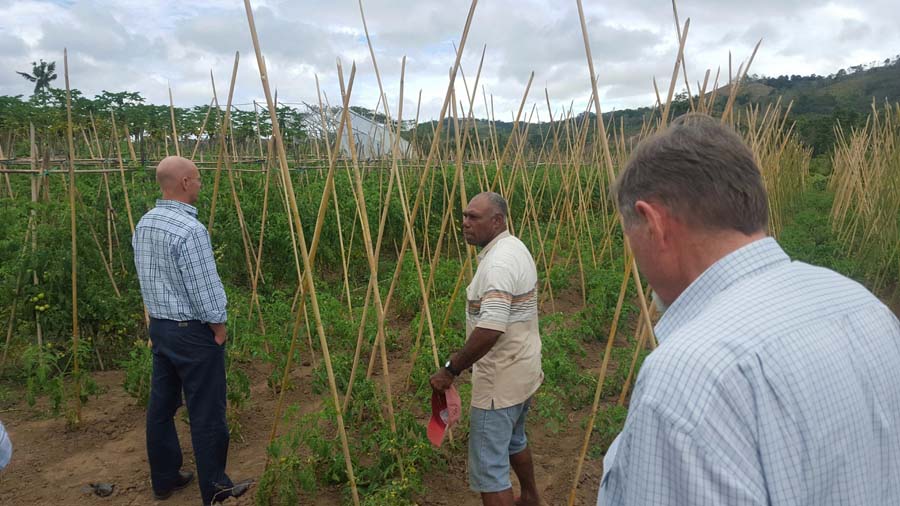 Picture: Farming tomatoes in Fiji with Malikai
My third trip as a Grad for ACIAR had me travel to Fiji to meet with a project team aiming to develop an evaluation framework for agribusiness development opportunities and livelihoods in the Pacific. This had us travel to the field to visit a project site in the Sigatoka valley, working with farmers in the Participatory Guarantee Scheme (PGS) and workshopping to develop the right framework and criteria.
After a few productive days of consultation, project planning and field visits I set for home. After completing the domestic leg of the trip, Suva to Nadi, the team and I went through the usual process in the international terminal… you know:  check-in, security, immigration etc. As I reach the immigration desk my colleagues and I diverge to the three open desks for checking. I hand my passport over and wait expectantly for them to stamp away and hand it back over (we had been there for only 4 days). After a few moments of silence the immigration officer tells me I have over stayed my visa by four days and that I need to be interrogated. "but how can that be? I have been hear four days, and my colleagues have just passed through fine." As I was pulled aside, my comrades looked at me being escorted away with slightly worried looks. After a nervous wait in the office for the immigration supervisor and no information why this happened a slightly gruff and tired looking supervisor walks in, crosses out the date in my passport and puts in that days date. He explains the immigration officer who stamped me in on arrival had the visa expiration date on his stamp set to that days date, 14 days too early. It turns out 1 in 4 people coming through immigration the day I arrived had been stamped the wrong day and needed to have their passport checked by the same supervisor. My travelling companions did not have the same issue as they did not get stamped in by the same guy as I did.
Trip 4 – Vanuatu
 "Lucky me"
My fourth trip took me to sunny Vanuatu, where I was helping coordinate the Market Day for the Pacific Agribusiness Research and Development Initiative (PARDI). This was an umbrella program which worked across a range of commodities and countries with great outcomes at the end. The market day was an opportunity to showcase the technical achievements of the project but also highlight the impact the project had to the producers and small businesses in Vanuatu. During the event I also took part in a roundtable discussion to identify opportunities to support farmers and agribusiness to become more resilient in the face of extreme weather events and climate change. Overall is was a fantastic event.
The night before my departure I get ready for an early morning start. Checking my email before bed I notice I have an email from Vanuatu airlines saying my flight has been cancelled and that I have been put on the flight to leave at 5pm the next afternoon… problem was it would get me to New Caledonia but nowhere from there. I email a colleague back in the office explaining the situation and asked if they could get in contact with the travel company to get me home. Figuring she wouldn't see the email until 9am or after the next day I settle in for a good night sleep.
4am rolls around and I receive a wake-up call from reception. I tell them that they are mistaken and that my flight was cancelled but they cut me off telling me my colleague Bec has gotten you on the 7:00am flight direct to Sydney and that a car is going to pick you up in 30mins. It turns out she had checked her email by chance before heading to bed at midnight and called up the travel agents to fix up my flights, and then called my hotel to get them to tell me of the new flights. Thanks Bec J
I jump up, quickly shower and pack and scramble down to reception where the driver was waiting.
Luckily, I got to the airport relatively early as there was a large school group taking up 80% of the planes capacity and all of the computer systems were down. This meant that every single passenger was manually checked in, with hand written tickets and all. Being at the front of the queue saved me from a tedious wait in line behind 100+ excited and loud school kids.
Given the circumstances, I must admit the airline staff, handled the situation very well, including the couple (by the looks of it honeymooners) who had been told once they were on the plane that there was space for only one of them. Politely telling them to "get stuffed" the couple politely suggested the airline ask for a volunteer to exodus the plane for a later flight. This is exactly what the air stewardess did. And that's exactly what they got. One of the girls in the school group who had obviously had a great time and sporting cornrows ran down the aisle wanting to stay longer. After a quick but stern word from one of the teachers supervisor her, the girl headed back to her seat a bit disheartened. Moments later the captain came out of the cock pit with the solution. The girl was to ride in the cockpit with him and one of the other kids got an upgrade to business class to give the couple two adjacent seats. Everyone's happy and I'm heading home.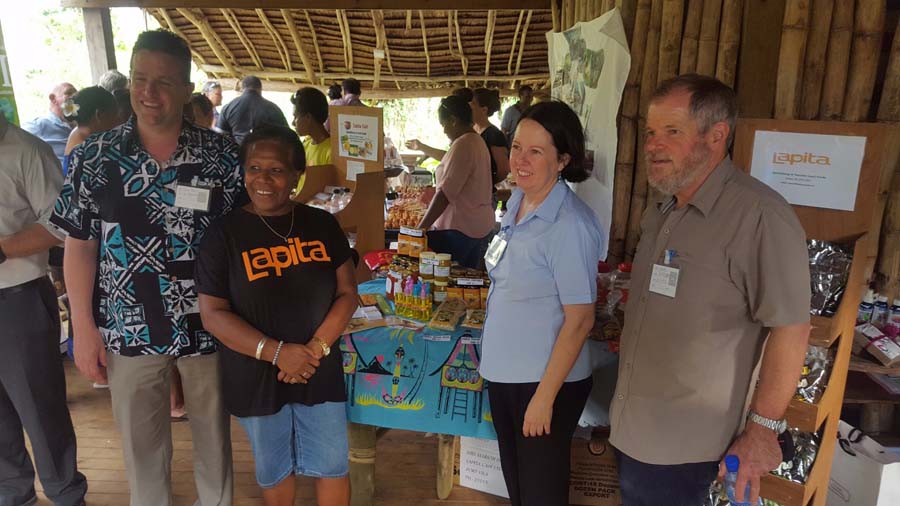 Picture: It's a PARDI Party with Lapita Café in Vanuatu