How to build a scientist: a treasure hunt through the backroads of Vietnam
Growing up, scientists to me were people in white lab coats staring down microscopes and occasionally winning very serious and prestigious awards. Even when I arrived in Hobart fresh out of high school I was herded with hundreds of other first years through one lab after another- heating this, mixing that, drawing immaculate fully labelled diagrams of X, Y and Z.
It wasn't until I went on my first Aggie field trip, bumping up the Derwent highway in the back of a 25 seater bus, that I experienced the delight of sitting in a paddock listening to some of the most intelligent, resourceful and witty people this nation has to offer. It was at that time that I also decided that whatever career path I chose, it would have to involve farmers.
Picture: This is me hanging out with one of the local farmers.
So when the time came to sniff out an honours project I set out to combine my love of international travel & culture, with my love of farmers' stories. Luckily ACIAR project LPS/2012/160 was running a case study on the adoption of improved forages by smallholder beef farmers on the South-central coast of Vietnam. I snuck in, and was lucky enough to travel to Vietnam (thanks to the Crawford Fund) to conduct the research which would form the basis of my Thesis.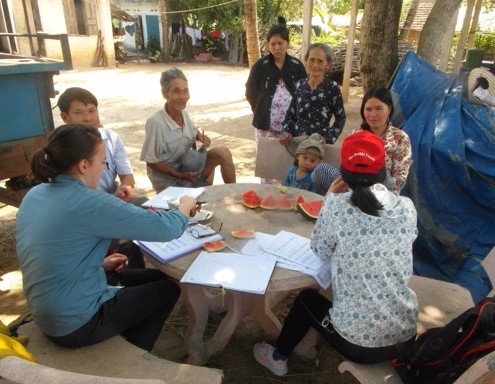 Picture: Here's a photo of me enjoying the local hospitality whilst we chat with a group of farmers.
I arrived in Vietnam just after Easter and Jet-lag hit me like a truck. The first few days of my trip were supposed to be planning and preparing my interviews for the coming weeks but I was falling asleep over green tea in the meeting room. By the time we boarded the not so aptly named 'sleeper' train headed south I was starting to feel closer to awake. We arrived in Binh Dinh province early in the morning and went straight from breakfast to farmer interview #1. Over the next three days, with the help of a very impressive local team, my supervisor and I located and interviewed 35 farmers about their smallholder beef systems, and the benefits and motivation for adopting an improved grass forage.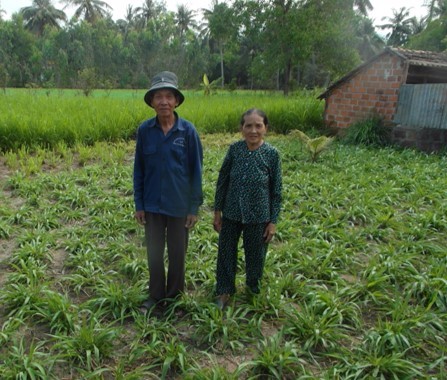 Picture: This is a photo of some of the farmers who were starting to scale out their forage operations.
It was certainly the most rewarding work that I have undertaken to date. Farmers were not only willing to tell us their stories and answer any questions posed, but they were very excited to show us their impressive forage gardens and their rapidly fattening cattle. There were of course many challenges of working in a country where households don't share one surname and roads through villages are at times impassable by car. In addition, I came up against language and cultural barriers that I had to identify and overcome in the very short time that was available to me. But I would certainly go back given the chance.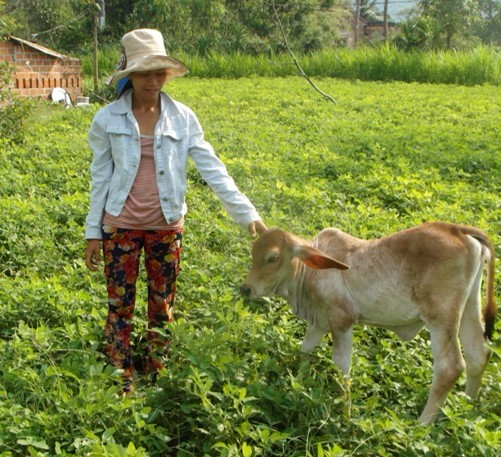 Picture: This is one of the local farmers showing off her animals and forage.
I have come home to Australia with a new appreciation for research and what it means to be a scientist. My time working in the field gave me a new appetite for agriculture and future career options. I'm looking forward to working on some more international agriculture projects in the coming years.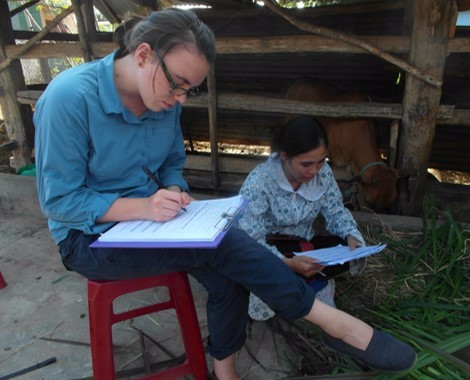 Picture: This is me working hard and completing a survey.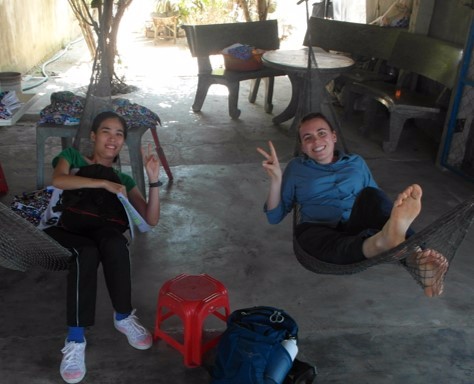 Picture: This is me relaxing with one of my local colleagues between surveys.