Some of the incredible women I know
Earlier in the week as I started my day, I was busy Facebooking and I noticed one of my sisters had posted something about International Women's Day. She was saying how grateful she was that her daughters were able to go to school and live in a safe environment. This got me thinking about how lucky we are in Australia and how wonderful it is that women in our country have so many opportunities to do amazing things. I have six sisters, all of whom do great things in their lives. This may be in their homes with their children and families, in their jobs helping/teaching others or being involved in development/education projects overseas. Regardless of where they work or the field they work in – it is still impressive. Likewise, we have a number of women who have contributed to this RAID blog giving us some insight to their incredible work overseas. Whether it be Jessica Bogard and her fish work in Bangladesh, Julia de Bruyn and her experience in Africa working alongside Robyn Alders or Kylie Ireland educating about plant health in Laos – it is a true inspiration to see all these women not only working so passionately in these places, but also that they have the opportunity to do so.
The most important group of people who work with us on the projects we generally describe in this blog are the women who work on the ground, in-country, on a day to day basis. The team that I work with have been running a dairy extension and farmer adoption project in Pakistan for over seven years. In the first few years of our project we were lucky to have one woman working with us. Although she worked hard and engaged with women in the village communities, we struggled to maintain sustainable relationships where we were able to see much impact of this involvement and relied more heavily on the extension program with the men. In the last five years of our project we have been fortunate to have a team of about five women within our team who have worked hard to establish and maintain discussion groups of both male and female farmers running concurrently. The impact has been incredible! The uptake of information has increased dramatically, the action and adoption on ground has more than doubled (even quadrupled) and we hear numerous stories from both the men and the women about the benefits of the extension program. I've learnt a whole lot watching this program develop over the last seven years and I am proud to have even been involved. However, something that has truly been inspirational is watching the significant contributions and impacts the women in our team have made and furthermore, seeing them start as interns or junior staff and end up in leadership positions or embarking on PhD opportunities.
So, in light of this and given that it was international women's day this week I thought this was a good opportunity for me to share a little about some of the incredible women that I have been lucky to work with in our ASLP Dairy Project. We have had a number of women join our team over the years and many have moved on due to opportunities in other projects, PhDs or to start their own families. I would love to give each of them a whole blog describing the incredible contributions they have made to our project, but I best keep it a little more brief. Below I have some photos of three of our team members with a bit of information about their contributions to the team. However, I would also like to mention the other great women that have worked with us over the years; Saadia the pioneer of the team, Nabilla who was the first to really show us the power of working with children, Zunaira who's bubbly approach is sorely missed and Khadija one of our newest team members who is showing that she too will be a great asset! 
Shumaila (picture bleow) started her PhD at CSU approximately 6 months ago. Prior to this she worked with our team in Pakistan for three years and was primarily involved in organising and running training workshops for our field staff. Shumaila never ceases to amaze me in the way she picks things up so quickly, then takes it, runs with it and makes things happen. She is now doing her PhD in epidemiology which is no easy task. However, each week I hear Shumaila's supervisors babble on about some pretty hectic numbers and concepts, barely keeping up with what's going on myself, and then watch in awe as Shumaila turns it into something implementable in Pakistan. Shumaila is back in Pakistan at the moment carrying out some field work for her research. The photo below is of Shumaila with some of the women and their families at a local village (Shumaila is the third from the right in the back row with the maroon head scarf).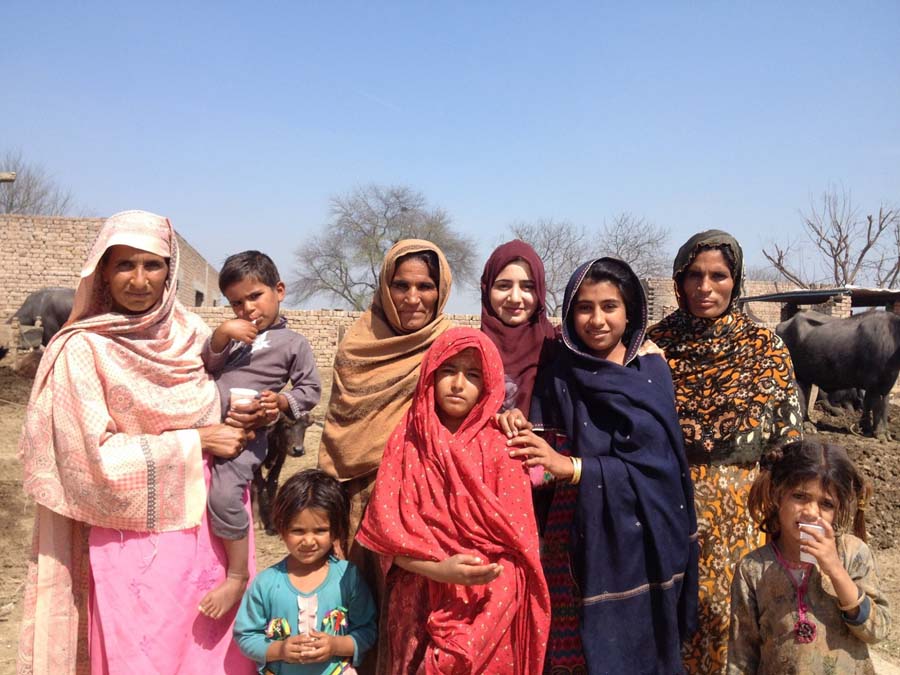 This photo below is of Zahra Batool presenting at an 'Impact Assessment Workshop' in Islamabad in March 2015. Zahra started working with our team as an intern about five years ago and was quick to impress us as a dedicated worker who approached any task without hesitation. In the first couple of years of her involvement Zahra quietly and happily went about her job organising and presenting at workshops and farmer discussion groups. Now in the last couple of years Zahra's experience and confidence has really started to shine through and she is leading our younger team members in an astonishingly good-humoured yet mature manner. Everyone always seems to be smiling and enjoying themselves when she is around as well as making progress – which is ideal! We are proud to see that Zahra has recently been successful in applying and receiving grants to sponsor further study and we really hope that she will get more opportunities to possibly come to Australia for some post-graduate work. Zahra is truly a pleasure to work with and I look forward to seeing where she ends up.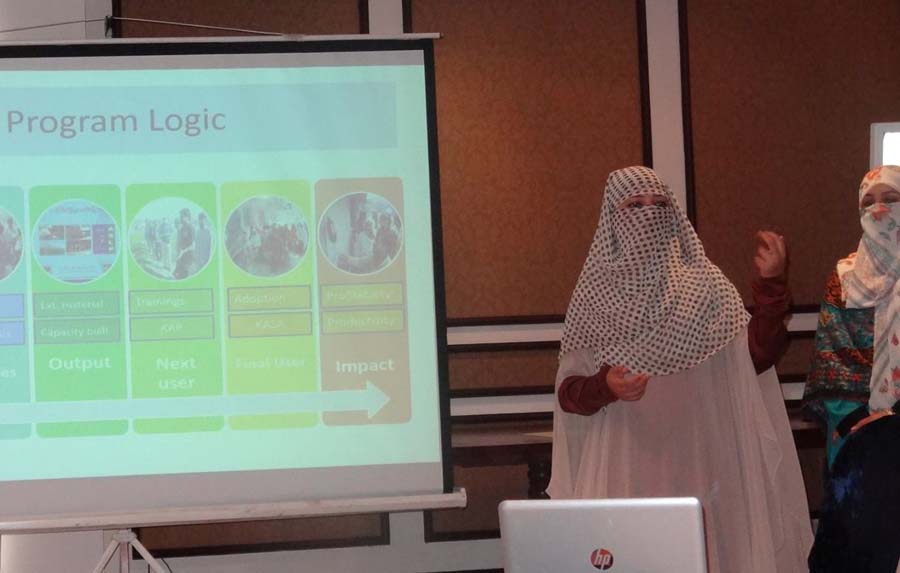 The last photo (below) is of Sobia (with the bright purple scarf in the middle). She works in Sindh, the sourthern province of Pakistan. This region gets nowhere near the attention, funding or projects that some of the other areas of Pakistan and because of this, the farmers and villagers are always so delighted to be involved in activities that our team is running. Sobia has an incredible rapport with all the people she works with and always seems to be enjoying what she is doing. She works in a very different environment in Sindh where people tend to have fewer resources and funds available. Despite this Sobia always has brilliant success stories to tell the team. Earlier today she was telling me via Facebook that she had been working with one lady making ice-cream from excess milk and that the household was able to get a huge increase in profit for that day. I love hearing little stories like this and Sobia tells me one every time I see her or chat to her online – this makes my job very enjoyable and easy. Thanks Sobia!!!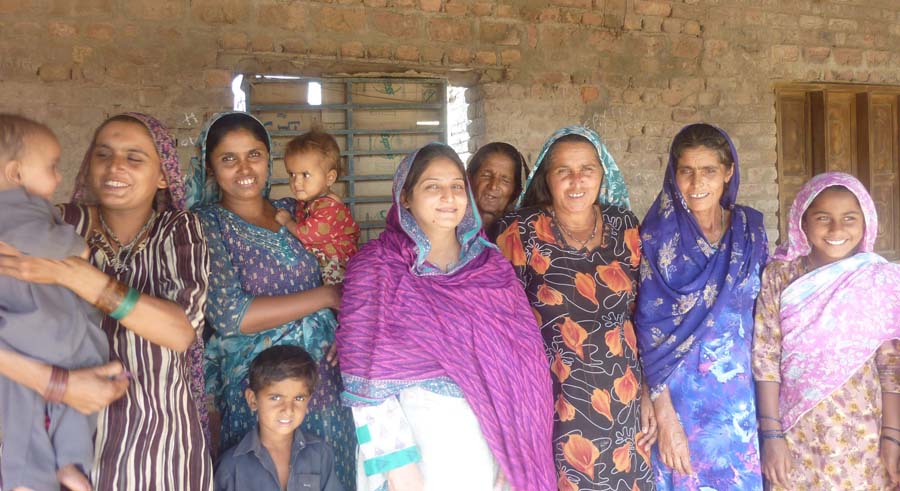 Anyway – that's enough from me. Needless to say, we are lucky to have a team full of such great women. A big thanks to them (and all the women working in different projects) for everything they do for us!