International Agricultural Research is Glamorous, Right?
One of the things you get from friends before you leave on project activities in developing countries is…. so you are off on another holiday then? (I can sense a few heads nodding). The perception is that it's glamorous work. Anyone who works in this field knows it couldn't be further from the truth.
I am currently in Vietnam. This is my sixth visit and I am yet to visit the major tourist drawcards of Nha Trang, Hoi An, Ha Long Bay, Da Lat or Sa Pa. There is little glamorous about many of our project locations or the hotels we stay in. There is also little glamorous about spending an hour on a toilet in a restaurant losing kilos through sweat, tears and the other after picking up a stomach bug (you soon learn how to read the ice).
But you won't hear a complaint from me.
This past week the Asian Australasian Animal Production (AAAP) Conference was held in Yogyakarta, Indonesia. It's a chance for many researchers working on projects in developing countries to present our work to the international community. A chance to discuss the similarities, challenges and successes of our projects with our peers from other countries.
Following the conference, a field visit to Lombok was organised by ACIAR. We visited two sites where farmers had cooperated to build large shared animal houses.
In the Kerang Kendal Village in North Lombok researchers are investigating the effect of strategic supplementation on the performance of cows and their calves. Green forages and tree legume Sesbania are used to increase growth and body condition.
In Central Lombok, farmers in the Nyerot Village are also using Sesbania grown on rice bunds to increase daily weight gain of cattle. This results in increased income for farmers. It's interesting to see how experiments are undertaken in other developing countries.
Getting back to my first point, opportunities to sit back and reflect don't come very often in-country. But when the opportunity arises after a field day to spend a few moments watching the sun set and enjoying a few of the local refreshments on a beach in Lombok with fellow RAID members, we soak it up like a thirsty sponge.
RAIDers in Lombok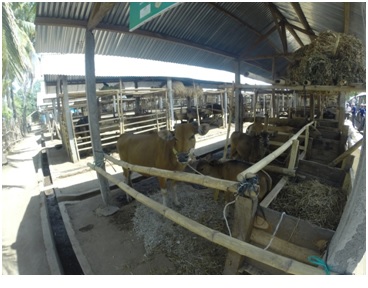 Karang Kendal Village cattle shelter, North Lombok
Cutting Sesbania in Nyerot Village, Central Lombok