Bichon Frise with a bad haircut; it might be what you call a first world problem
August, 2013. A veterinary clinic consulting room in Sydney. An irate woman is demanding to know why her Bichon Frise no longer looks Bichon-y after his hair cut. No amount of apology, explanation or gentle persuasion will calm this woman down. After all, the hair on his ears is going to take WEEKS to grow back.
Don't get me wrong – there are many great aspects to being a small-animal veterinarian. Having a unique role in nurturing the strong bond between a pet and its owner is a privilege that only some get to experience in their lifetime. But on that particular day, I couldn't help but feel that somewhere, someone in the world needed my time and energy more than this person whose biggest problem was a negative two centimetres of doggy hair.
So the following day, I hit Sydney University's website, scouring for jobs and research projects that would contribute something useful to this world of ours…
June, 2014. Dili, Timor-Leste. The sun is baking, and despite being right next to the beach, the air is dusty. I check for traffic before crossing the road, and catch the eye of a young girl not far away. From a distance, we could look similar: shortish, black hair, lead in hand. But, I am walking a dog. She is walking a goat. We each smile in wonder at each other, cultures clashing quietly in the background. And I watch as she does something I've never seen before: leading the family's one prized goat across the road to the beach, to find something green to eat.
The value of being a veterinarian working in the field of agricultural development is immense. The purpose of the animals may be different, and the diseases you encounter may also differ, but the significance of the animal is something you can innately understand. To families living at or under the international poverty line, livestock can be an important source of livelihood. They have important socio-cultural roles; they can be sold or bartered for things like food, medicines, soap and schooling needs for children; and they contribute to the household diet. When preventable diseases and unsuitable husbandry wipe out entire flocks or herds, it does not just result in pain and suffering for animals – it also heavily impacts on the resilience of families.
The research opportunity that caught my eye back in 2013 involves the implementation of community-based vaccination programs in village chickens for the control of Newcastle disease, an often fatal virus that is endemic in many developing countries. I am now enrolled in a PhD and finalising approvals for my research investigating links between improving poultry health and changes in the human diet. Ultimately, I would like to show that improvements in poultry health can lead to improvements in human undernutrition and therefore better outcomes for both people and their poultry.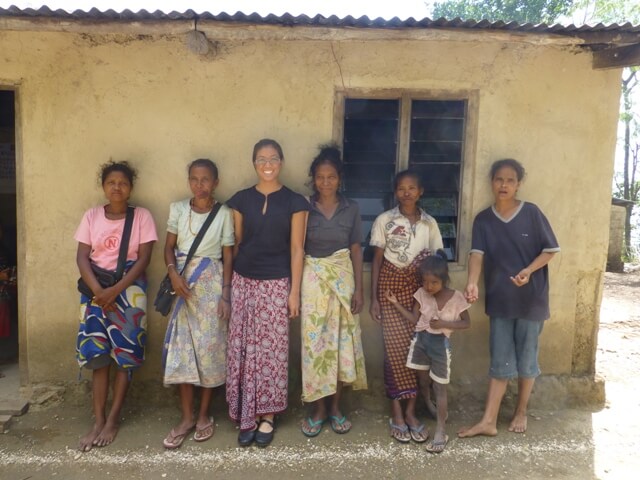 Johanna Wong in Timor-Leste