Summary of RAID Network Event at University of New England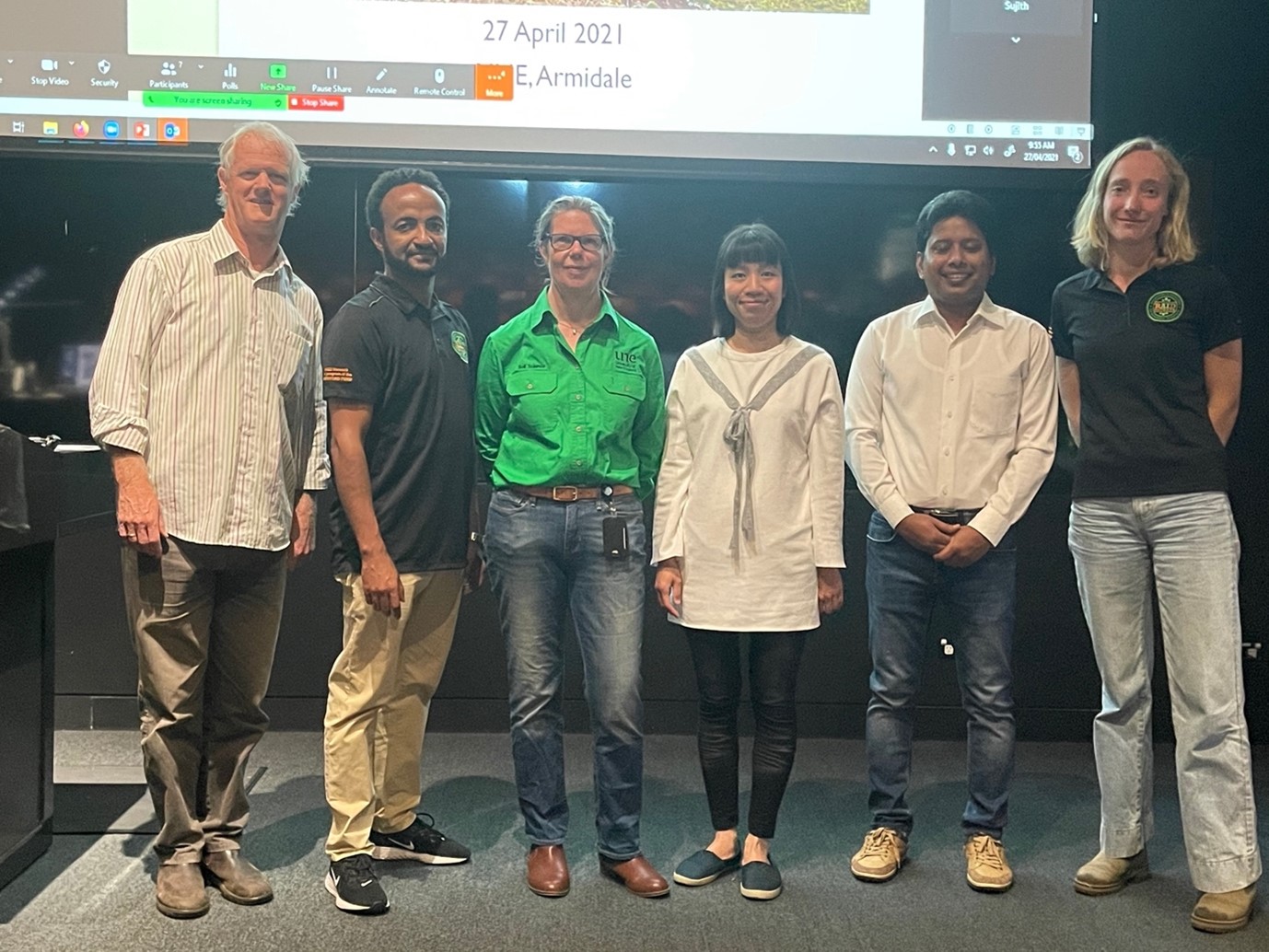 RAID Network's Armidale regional office in collaboration with the University of England organised an event on the 27 April 2021 both in-person and virtually. The main theme of the event focus on the intersect of agriculture, people and environment. It connected, engaged and supported UNE PhD candidates and Early-Career Researchers to present their international agricultural research conducted in Australia, Vietnam and Ethiopia.
The talks was introduced by A/ Professor Lisa Lobry de Bruyn, principal supervisor of the PhD students and graduates. An overarching theme of today's speakers is their desire to see improvements in managing land sustainably and also to incorporate the local knowledge of farmers in the developed and developing world in their farming systems. This was an argument I prosecuted in a paper in 2017.  Link to full article here.
The speakers focussed on addressing two key questions from their research and these were:
(a) To identify the challenges farmers are facing to produce food sustainably?
(b) How to support farmers in farming sustainably as well as meeting wider public benefits of reduced carbon emission and improved biodiversity?
---
The first speaker, Paul Kristiansen, A/Professor of Agricultural Systems and UNE Higher Degree Research Coordinator at the school of environment and rural science, provided a broad perspective regarding the intersect of agriculture, people and environment from Australia's, and UNE's engagement in international agricultural research. He outlined the drivers in three categories: the socio-economic, institutional and technological dimensions of agricultural systems determine the final impact in terms of technology adoption by farmers. He explicitly discussed how climate change, and the COVID pandemic exacerbates the problem of technology adoption and significantly affects the capabilities of farmers in producing food and improving their livelihoods. He provided examples and posed key questions regarding the declining trend of agricultural income and its link with the current migration from rural areas to urban and other places in search of higher quality of life affecting the future farming labour. In summary, his presentation sets the stage for the rest of the speakers and how they can link their work with the bigger picture.
The second speaker was Mr Md Nurul Amin, in the final year of his PhD.  He is working in grazing lands of Northern Tablelands in NSW. Recent research evidence suggests that offsetting greenhouse gases (GHGs) through soil carbon sequestration requires understanding the relationships in the social-ecological system (SES) for soil carbon management (SCM) in agricultural lands. This study used a novel approach by operationalizing Ostrom's SES framework for SCM through qualitative and quantitative methods to unravel the relationships of the SES features for SCM in high rainfall grazing lands of New South Wales, Australia. Fifty one SES features for SCM were first identified by farm-level interviews utilizing categories of Ostrom's SES framework: resource systems, resources unit, governance, interactions-outputs and actors. Network analysis indicated that these SES features for SCM were weakly connected in the current SES. In stakeholder workshops, consensus was reached on the causal relationships (e.g., interactions, feedbacks) between specific SES features that might influence SCM.  The SES had 10 critical feedback loops, with policy settings and instruments not positively affecting SCM practices. The methodological approach demonstrated how the concept of SES can be applied to the SES for SCM.  Understanding the SES relationships could be used to identify the gaps, challenges and needs of stakeholders to achieve local, national and international objectives – such as SCM co-benefits, GHG reduction, carbon sequestration targets and SDGs. Link to full article of systematic review here.
The third speaker, Dr Ha Huynh, a recent graduate of UNE presented on the local soil knowledge of smallholder farmers in central Vietnam. Efforts to support farmers living near forests to achieve sustainable agriculture and natural resource conservation have predominantly focused on services or schemes such as agricultural extension and community-based forest management, with little attention being focused on farmers' local soil knowledge (LSK). This talk provides insights into farmers' LSK, their agricultural and soil conservation practices and economic reliance on natural forests. Household survey (n = 146) and key informant interviews (n = 24) with farmers were conducted in two communes of the buffer zone of Bach Ma National Park, Central Vietnam. The results indicated that 70% of farmers had reasonable LSK, and farmers with comprehensive LSK (21%) were more familiar with their soils and the relationships between essential soil properties that reflect soil problems. Most farmers used soil colour to allocate crop types because of its association with soil fertility or plant yields. Erosion was identified as a major production constraint, yet less than a fifth of farmers had placed soil erosion control measures into practice. However, low-cost techniques, such as growing native plant cover (e.g."lồ ô" (Bambusa balcooa)), were suggested by a few farmers to address soil loss. The Katu farmers had greater potential to secure LSK as the next generation are continuing to farm, while the Kinh farmers' LSK is threatened by a lack of engagement in farming by the younger generation. However, Katu farmers have less opportunity to use their LSK due to limitations in farm size and cropping options. These findings have raised different challenges to the succession of farmers' LSK for sustainable agriculture and natural resources conservation in the two communes. Finally, this study highlighted the importance of involving farmers' LSK in the early stages of designing and conducting research through forums or workshops to improve relevance and adoption of practices developed so they align with local people's understanding and practice. Link to full article here.
The final speaker was Dr Zelalem Lema, who recently graduated from UNE and currently representing RAID network in Armidale. He presented from his published paper on "addressing the barriers to sustainable intensification of smallholder livestock systems in the Ethiopian Highlands: the role of multilevel innovation platforms (IPs)". 80% of the rural people in Ethiopia, a country with the largest livestock population in Africa, depend on the livestock sector. Low productivity is considered due to interrelated technological and institutional issues along the value chain that constrained farmers from benefiting from this growing sector. He also demonstrated the link between livestock and the environment, with livestock sector as the main source of GHG emission. He shared a case study on the effectiveness of a multilevel IPs, network of actors across different demonstrative levels, in addressing these complex challenges facing the livestock sector. The main findings from his qualitative research in relation to IPs at the farm-level livestock feed technology has limited emphasis on the institutional, agribusiness development and resource mobilisation. Improvements here would assist farmers for the sustained use of the feed technologies. He finally presented a framework that could help multilevel IPs be more effective.  By addressing interrelated technological, organisational and institutional issues and with greater inclusion of farmers and other value chain actors' interests early in IP development. He presented an adapted framework to help guide development and government agencies to effectively implement multilevel IPs to address such complex and interrelated issues through iterative and reflexive learning approach.  Link to full article here.