Crawford-RAID Sundowner attracts the crowds
By Dr Myrtille Lacoste – WA RAID Representative
---
On 24 August, The Crawford Fund and the RAID network co-hosted a Sundowner at the UWA Faculty of Science. The initiative gathered over 50 participants for a series of presentations and a networking session to engage students and researchers on the theme of international agricultural development.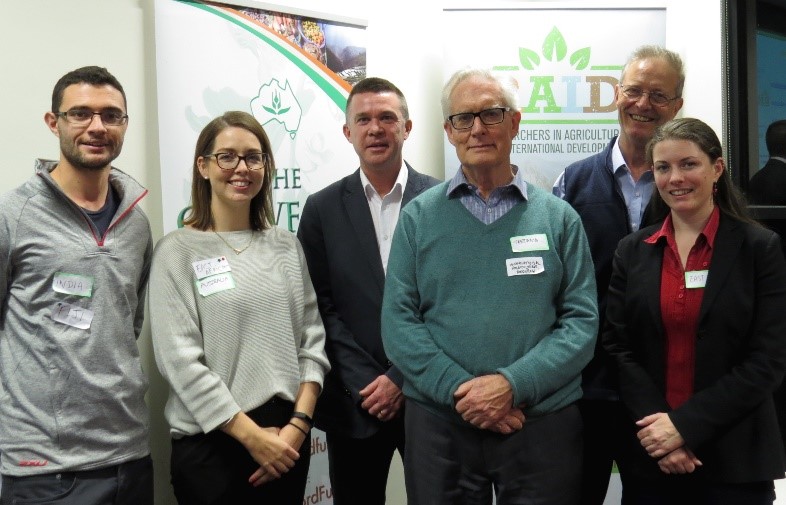 Organisers and speakers: Dr John Duncan, Ms Danielle Gale, Mr Sean Cowman, Adj/Prof. James Ridsdill-Smith, Prof. Willie Erskine, Dr Myrtille Lacoste
The Sundowner, introduced by Prof. Willie Erskine, was the occasion to showcase current activities and opportunities in Western Australia on varied aspects and connections between Australia and overseas agriculture. This included a presentation of CBH activities building successful relationships with African and Middle-East markets by Mr Sean Cowman (Marketing Manager – International) and an introduction to biosecurity for food security by Dr Kirsty Bayliss (recently selected in the LAUNCH Food Innovator global program). Ms Olivia Tate provided an enthusiastic feedback on her experience attending the national meeting in Canberra as a 2016 Crawford travel scholarship awardee.
Postgraduate students also received an update on the current awards offered by the WA Committee of The Crawford Fund by Adj/Prof James Ridsdill-Smith. Dr Myrtille Lacoste concluded with an overview of RAID (Researchers in Agriculture for International Development) and opportunities to become involved in the young network.
The evening concluded around drinks and excellent food catered by the UWA Guild, providing a chance for postgraduates and senior researchers to connect with each other. Participants used country tags to spark conversations about regions of the world they were either interested in or where they had experience in agricultural research. The event gathered many positive feedbacks, building up on the success of last year Sundowner at Curtin University.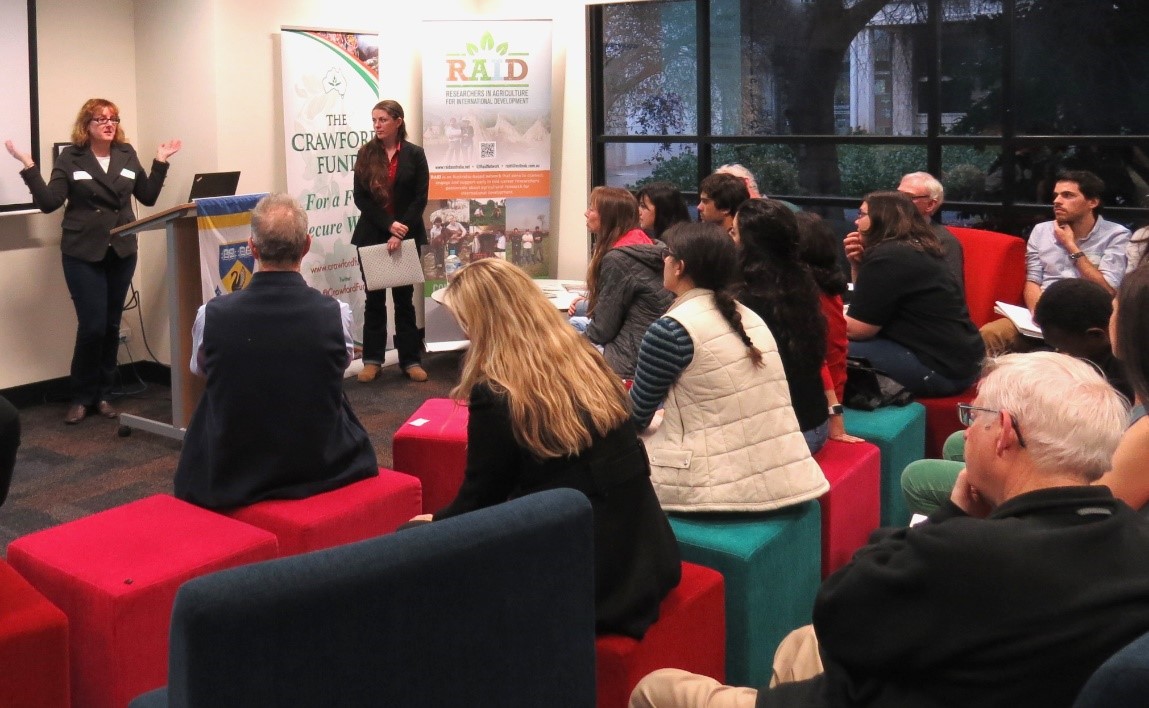 Dr Kirsty Bayliss from Murdoch University presenting on the theme of "biosecurity for food security"
---
Want to get in touch with Myrtille? Check out her profile HERE