University of New England or Zoom
The intersection of ag, environment and people: Towards mitigation and adaption to climate change Symposium (Armidale & Online)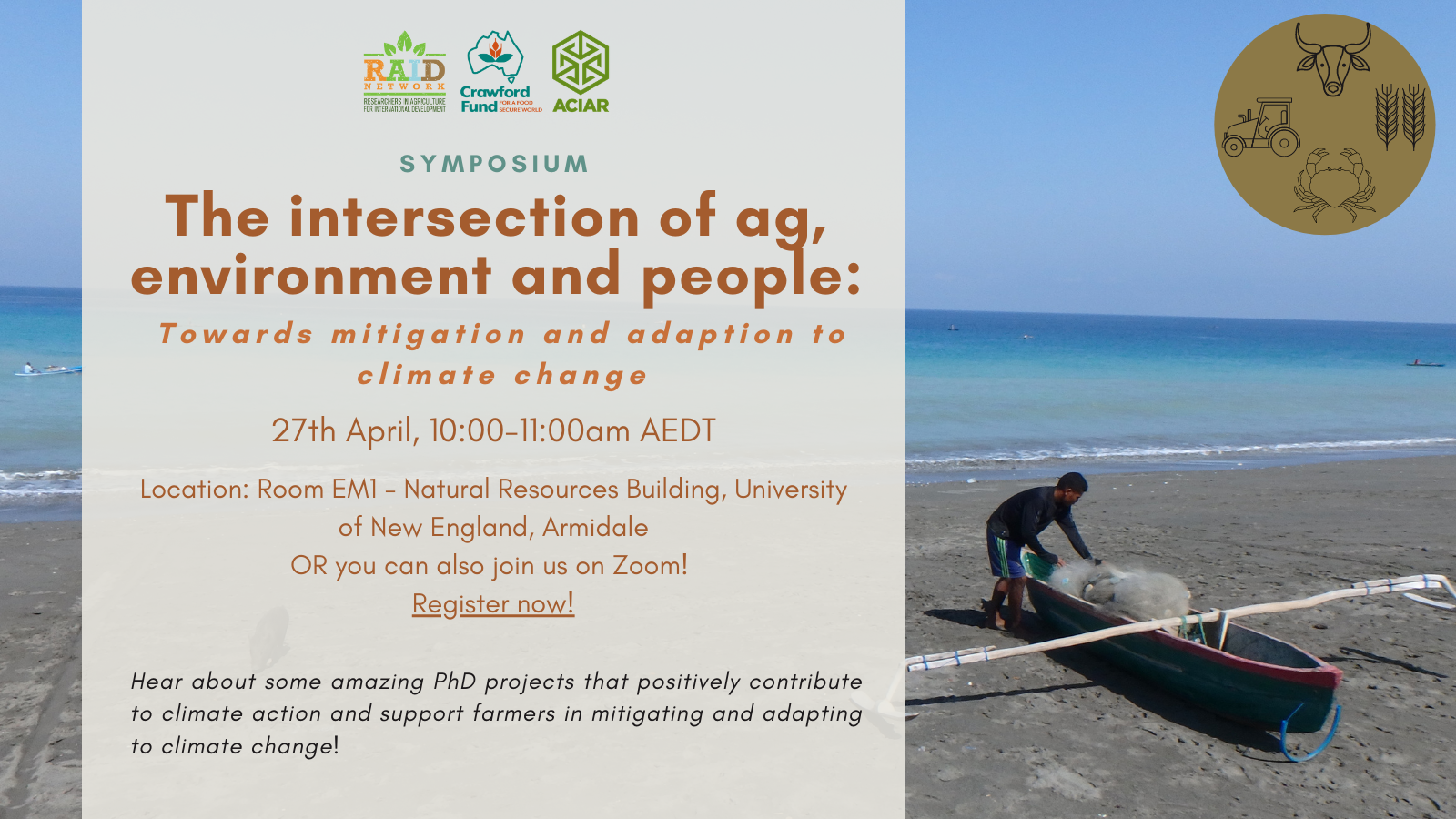 Join us as we showcase PhD research projects from around the world (Australia, Vietnam, Bangladesh and Ethiopia), focusing on ways to feed the world whilst reducing carbon emissions, restoring biodiversity and supporting the role of farmers.
This symposium will include short talks and discussions with academics and PhD candidates, including recent graduates from UNE School of Environment and Rural Science. The talk will be mediated by soil scientist A/Prof Lisa Lobry de Bruyn.
The speakers presenting at this symposium are:
Paul Kristiansen, A/Prof of Agricultural Systems and Higher Degree Research Coordinator – The intersect of agricultural systems, people and the environment under the changing climate.
Aminul Islam, PhD candidate – Farmers' driven policy initiatives to address salinity problem in dry season agricultural intensification in coastal areas of Bangladesh: tipping points approach.
Nurul Amin, PhD candidate– Untangling the social-ecological dynamics of soil carbon management in the grazing lands of Australia.
Ha Huynh, PhD ECR – Means and ways of connecting and retaining local soil knowledge of smallholder farmers in Central Vietnam.
Zelalem Lema, PhD ECR – Addressing barriers to sustainable intensification of smallholder livestock systems in Ethiopia: the role of multilevel innovation platforms.
Date: Tuesday 27 April 2021
Time: 10:00-11:00am AEST
Location: Natural Resource Building, EM1 meeting room at the University of New England, Armidale, NSW or via ZOOM
Who can attend?
Online participants – Anyone interested, especially early to mid-career researchers and industry professionals involved (or interested in) agriculture for international development.
In person participants – Up to 20 invited UNE PhD candidates and academic professionals.
RSVP now via Eventbrite: https://www.eventbrite.com.au/e/intersection-of-ag-environment-and-people-adapting-to-climate-change-tickets-148124031967
Any questions? Please contact Zelalem Lema