Earth Month Mental Health and Climate Change Workshop (WA)
Oceanworks Lounge, Ocean Institute, The University of Western Australia, 39 Fairway St, Crawley
PLEASE NOTE: Due to COVID restrictions in WA, this workshop will be re-scheduled. A new date will be posted when confirmed.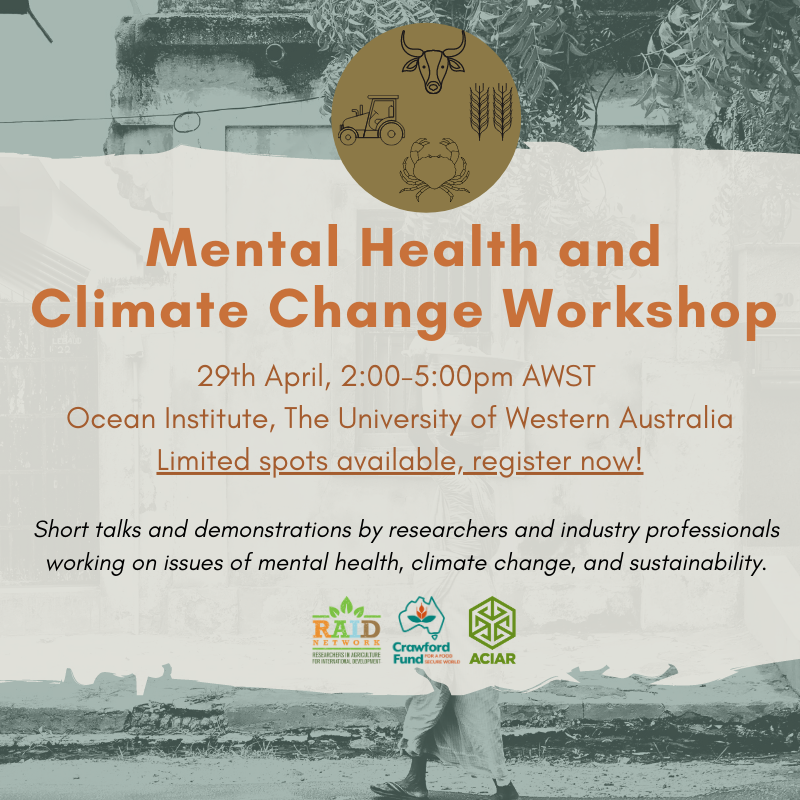 We are exciting to be holding an in-person workshop which aims to share diverse perspectives from research, community, industry, and international development on mental health and the difficult emotions associated with climate change.
This workshop will include short talks and demonstrations by researchers and industry professionals working on issues of mental health, climate change, and sustainability. The workshop will also include participatory sessions for sharing emotional experiences, mental health care strategies, and how to get involved in climate activism and sustainability initiatives.
The three researchers and industry professions speaking at this workshop are:
Dr Karen Paiva Henrique (UWA) – Locating loss from climate change in everyday places
Elise Haddleton (UWA) – Community resourcefulness as a response to climate-related loss
Daisy Goodwin (Sustainable. Simply) – Tackling waste and eco-anxiety (including waste reduction activity)
Date: Thursday 29 April 2021 Due to COVID restrictions in WA, a new date will be posted when confirmed
Time: 2:00-5:00pm
Location: .Oceanworks Lounge, Ocean Institute, The University of Western Australia, 39 Fairway St, Crawley
Who can attend? Early-career researchers and industry professionals involved (or interested in) agriculture for international development.
Get in quick! There are 25 places available.
Any questions? Please contact: Alicea Garcia