Womanpower for Power women
Romana Roschinsky – International Research and Training Program Leader – Livestock Systems, University of New England, Armidale
Back in Myanmar! After my first trip in October 2017 I have returned to continue research activities on women's empowerment for the ACIAR funded MyLife project. But that is not the only thing that is different this time: the rainy season has ended and the country is much dryer than last time. Most fields have just been harvested and farmers prepare them for the summer rice. The air is filled with dust and one can imagine, that soon the heat will be intense!
After my first visit to communities who have worked with the NGO CESVI, together with my research partner Thi Thi Nyunt I venture towards new frontiers! We have been linking with two local NGOS to find out if other programs have a similar empowering impact of women in rural communities. It should be interesting to see how the approaches of local organisations from Myanmar compare with the approach of an international actor.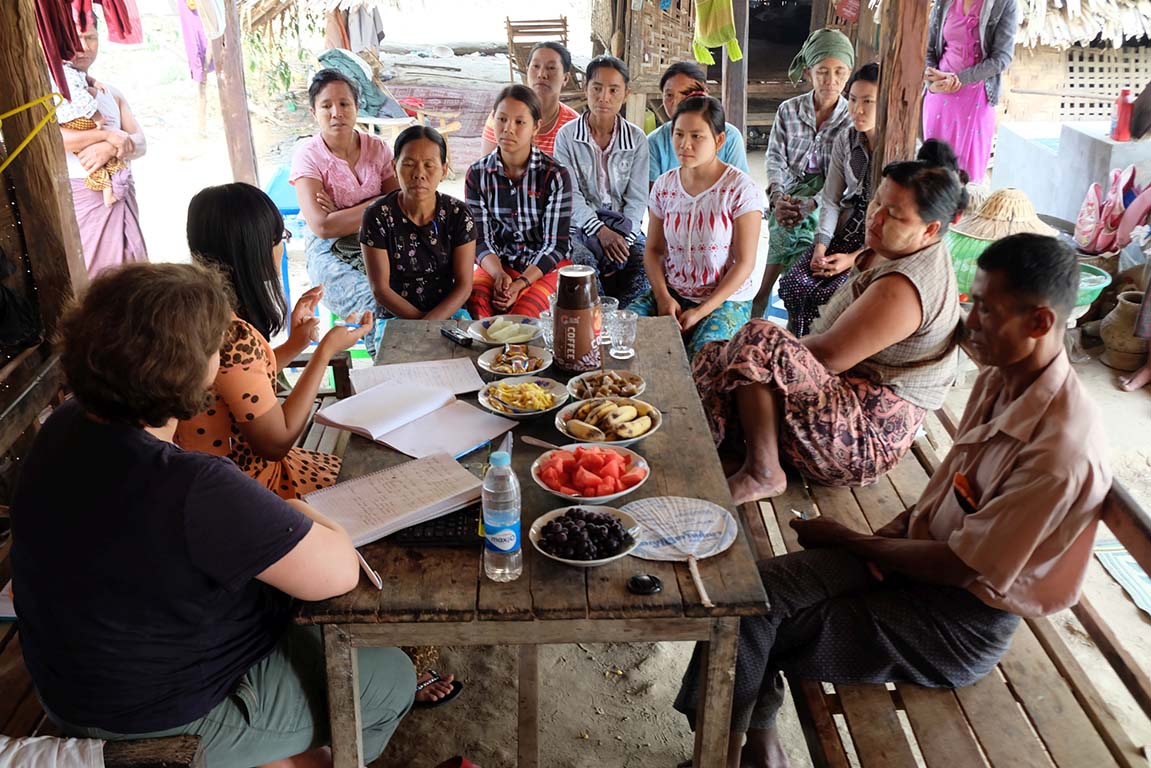 Focus group discussion in Ze Cho Kone village, Central Dry Zone Myanmar
In our first meeting with the NAG program manager Dr Myo Ma Than. Dr Than is obviously passionate about women's empowerment which makes me curious to learn more about the activities of this organisation in the future!
She explained that for her it is central not to leave the men in the community behind. In her opinion it is crucial for change and improvement of gender relations, that the whole community is involved. This is very much in line with what we have already observed in the communities we have previously visited in Myanmar. It was not only women who supported change and improvement, but also men.
And why?
Because if the situation of women improved, the whole community benefits. And while some may argue, that we should focus our efforts on women alone I also think that a holistic approach involving both men and women is the answer to truly, and sustainably, empower women.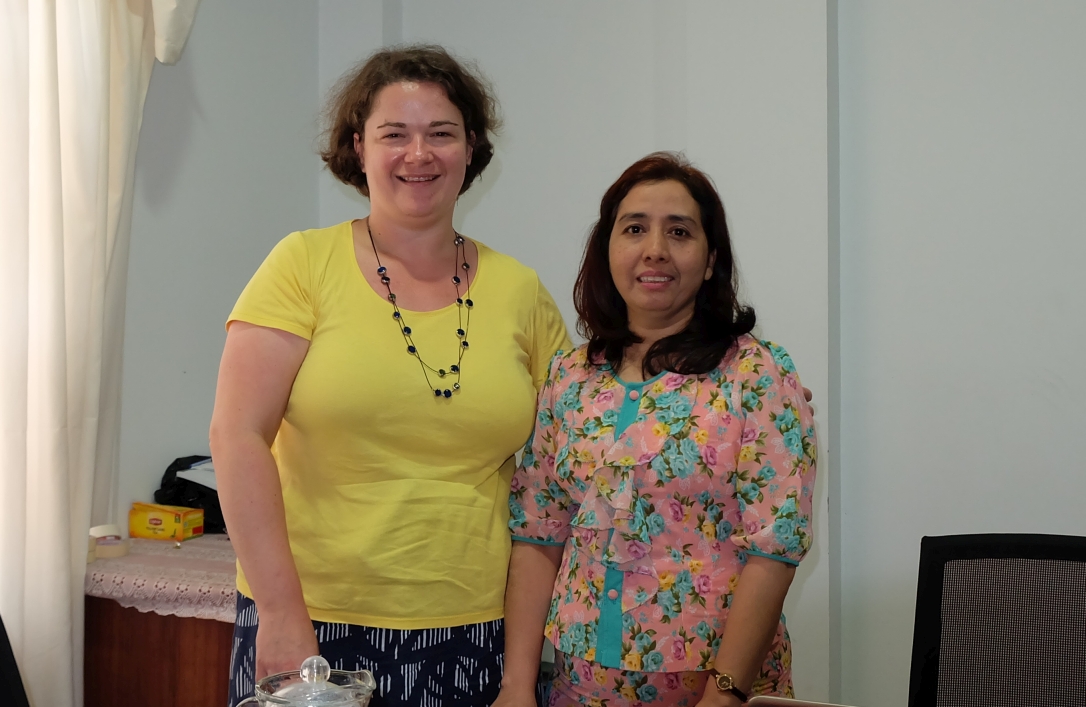 Meeting NAG program manager Dr Myo Ma Than in Yangon
Our second new partner is Shwe Inn Thu. The inspiring Hnin Ohn is founder and, to this day, program manager of this local NGO who works with communities in Nyaung Shwe Township. For everyone who knows Myanmar that should ring a bell:
Nyaung Shwe is the entrance gate to scenic Inle Lake region, a picture postcard favourite among the rich cultural and natural sights of Myanmar. While visitors are enthralled by the scenic local fishermen rowing their boats in their distinct way with their feet while standing up, locals have to overcome a multitude of challenges to lead their communities into a prosperous future.
As a local Mrs. Ohn is intimately acquainted with the challenges women, and communities, face: lack of knowledge, linkages, markets and capital. Shwe Inn Thu helps women to help themselves and starts from the bottom up: problems and assets are identified together with the community. Self-help groups cover a range of areas, seeds, livestock, credit, and are equipped with the skills to take change into their own hands. Their pay back system created ownership and pride of achievement. Communities are not recipients, but active players planning and managing their own future.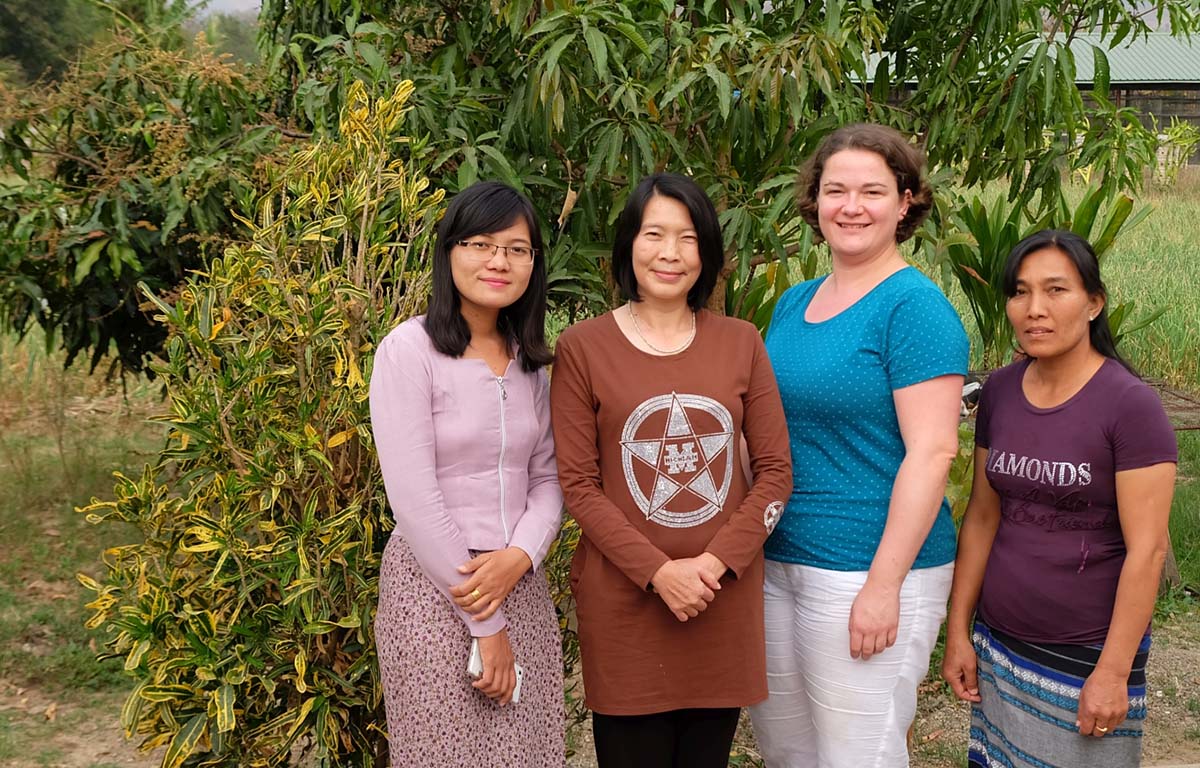 First contact with Shwe Inn Thu first meeting: UNE Research Associate Thi Thi Nyunt, Shew Inn Thu founder and program manager Hnin Hnin Ohn, Dr Romana Roschinsky and Shwe Inn Thu community mobilizer Aye Myat Pwint
Both of these meetings have left me inspired. The passion with which these strong women apply their strengths to improve the situation of rural women and communities makes me optimistic. They drive change, they themselves become role models for other women, and men. With such womanpower on the forefront, I remain hopeful that Myanmar's rural power women will more and more in charge of their own development in the future.
MyLife project is funded by the Australian Centre for International Agricultural Research. Project leader is Dr. Julian Prior (University of New England). Project partners are Yezin Agricultural University, Department of Agriculture Myanmar, Department of Agricultural Research Myanmar and Asian Institute of Technology.
---
Links:
MyLife project: http://aciar.gov.au/project/asem/2011/043
CESVI Myanmar: http://www.facebook.com/Cesvi-Myanmar-469105653210489/
Network Activity Group Myanmar: http://nagmyanmar.org/