The ones we leave behind: how our R4D work affects our loved ones
At RAID we hear a lot of stories from people working in international agriculture. The challenges of frequent travel and working in developing countries, but also the highlights of having a meaningful career and creating impact. But what about the family members left at home to juggle life commitments while we're busy travelling? We interviewed 4 family members and got some very honest feedback about what it's like to live with someone working in international ag.
#ModernDad: Part-time lawyer. Father of 3 children aged 5-9. Living in a regional town away from extended family.
#YoungMum: Primary shool teacher. Mother of an 8 month old. A dual citizen of Canada and Australia who returns home to Canada regularly.
#DINK: Double income-no kids. Whiskey & shed enthusiast.
#Child: Father worked in R4D. Family lived in Kenya for 6 months, she attended the local primary school. Now an adult living overseas with husband and 1 child.
How often does your partner travel and what do they do when they're overseas?
#ModernDad: It varies. My wife travelled a lot last year, 7 trips of 10-14 days each. She goes to many meetings, field trips, laboratory work, workshops and seminars. She travels to developing countries in South East Asia.
#YoungMum: For the past four years my husband has travelled to Vietnam generally 3-4 times per year. His trips average between 10-14 days each. As the coordinator of beef project there his time is split between the city of Hue, where the project is coordinated from at the university and visiting field sites where the research is conducted in rural areas.
#DINK: She's constantly gallivanting around somewhere more interesting than here. She doesn't talk much about work but I think she's a livestock photographer. She comes home with lots of photos of cows and goats. Sometimes Yaks too. Often they are eating. Possibly it's a project to put together some sort of coffee table book for ruminant enthusiasts?
#Child: I actually don't really remember Dad travelling overseas all that much when we were younger kids, most of my memories are of him out in a field doing soil sampling with local Queensland farmers! He certainly did travel overseas during that time, but I don't think it had much of an impact on me until after I'd moved out and he started working internationally much more frequently.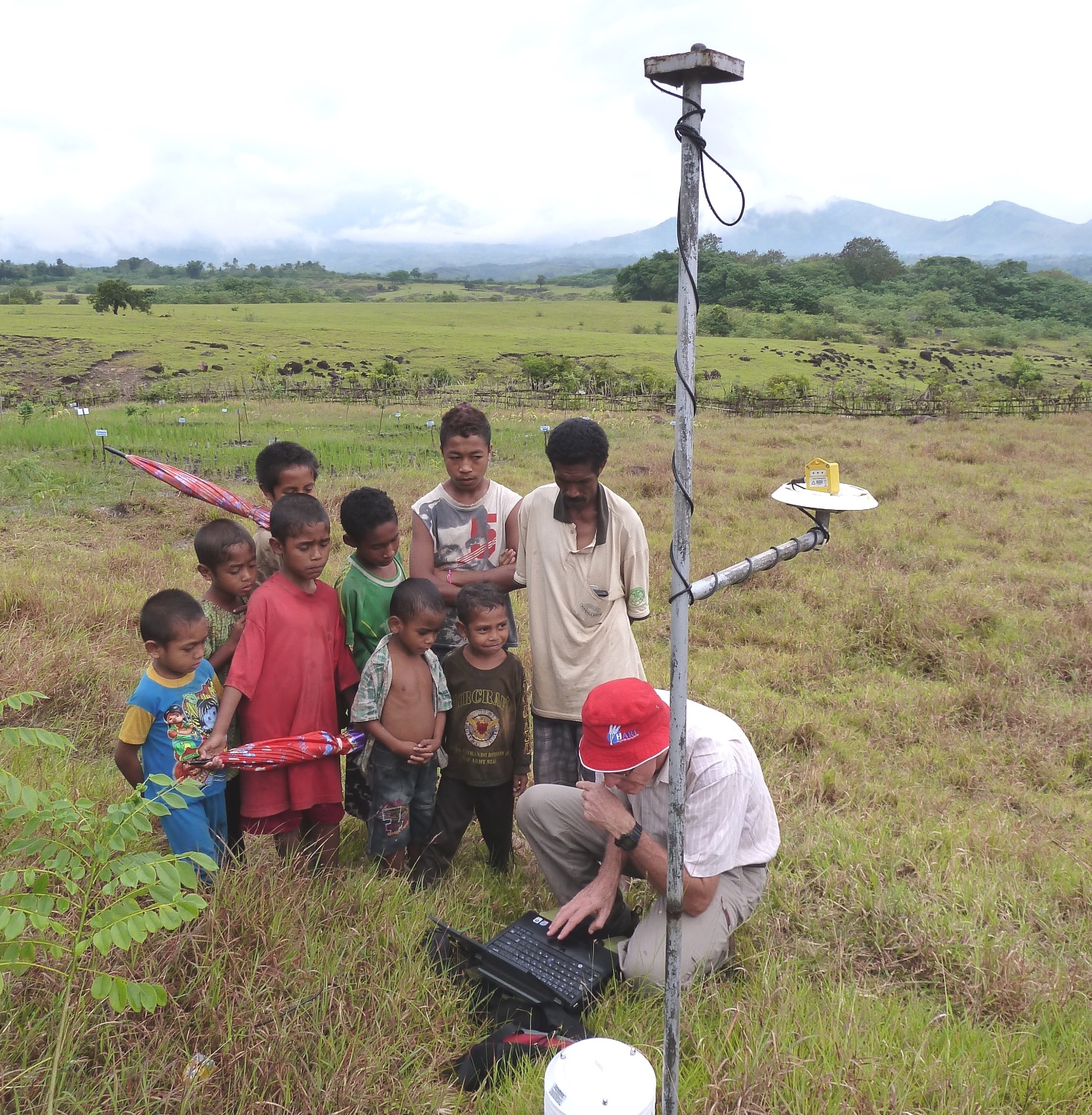 When travelling for R4D you're often surround by families, just not your own
Have you ever been on a work trip with your partner?
#YoungMum: In 2014 I had the opportunity to travel to Vietnam with my husband. It was an amazing experience. A part of the trip was work time for my husband, so I was able to look around and spend some time by the pool. However, I met many of his colleagues, toured the university and even went on a couple of rural fieldtrips. The fieldtrips were a highlight for me, as I was able to see some of the farms that are associated with my husband's project, how the people live and exactly what it is that the project is all about. I gained a lot of insight and appreciation of what my husband does on his work trips and I am glad that I have a picture in my mind when he is talking about different people or places.
#Child: Yes! We've been lucky enough to join Dad on a couple of his work trips, which have always been an amazing way to get a new perspective and very local experience, as most time was spent out with rural farmers and in small towns. 
The most memorable trip was one we took as a family back in 1996, when we spent 6 months living in a small town in Kenya. Looking back now I'm actually a bit in awe of how brave Mum and Dad were to take the 3 of us out of school and over to Africa, but I'm glad they did! I don't think I really appreciated how amazing the experience was until years later to be honest… as a 13 year old and the only 'Mzungu' family in our town I don't think I was very gracious or appreciative haha! But it's now a place and time in our childhood that holds a lot of very profound, fond and funny memories for all of us. It was only 6 months but I think it made us a closer family and helped shape us as kids. So much so that we all went back about 3 years ago, to share the experience with our now partners and spouses, and have a kind of "homecoming" as a family.  
How does your life/daily schedule differ when your partner is overseas?
#ModernDad: Life is busy when she is OS. You realise then how much your partner does in the home!  Assuming you and your partner do about 1/2 each of the non-work work, your workload instantly doubles when they are away. You get tired faster and your children do as well. It is stressful maintaining your own job/work load, all the home front and the children's activities at once. It feels like your home is slowly deteriorating every day your partner is away and you end up taking lots of shortcuts and your standards change e.g. ironing becomes a very low priority! When she started travelling I was still working full time which wasn't sustainable. I would have to take annual leave and work shortened days to get to daycare and school pickups. If you have the opportunity to have someone assist when your partner is away, such as a grandparent, it does lighten the load a little. That said, it is all a matter of what you are used to – single parents must face this challenge every week of the year. 
Yes it does affect your work – your work day is shorter because of the extra other responsibilities, and you are less focused when on the job. You tend to find you are less productive and less reliable. Your work colleagues notice.
#YoungMum: In the past my husband's travel has never affected my own work or daily schedule. However, the house is always a little lonelier. Recently, we welcomed a baby boy into our lives, who is now 6 months old. I did find that my husband's most recent trip affected my daily schedule. I had to be a lot more organised and plan much more ahead as I had no help at all. It was more tiring and gave me an idea of what it might be like to be a single mother. I appreciated a few quiet hours and outings without the baby when he got home!
How do you keep in touch?
#ModernDad: We use WhatsApp when she is in data range and also call each other at night and sometimes after breakfast. However, there are times when we don't talk for a few days because one of us is busy or out of range. Sometimes the timezones make communication difficult – I am at work before she wakes up and then I am in bed when she gets back to the hotel after being out. It depends on what country she is traveling to.
#YoungMum: We generally don't have any problem keeping in touch as there is always Wifi at the hotels where my husband stays. Fortunately, the time difference isn't too bad either which makes it easier to talk. We often Skype a couple of times a week and will send messages daily.
#Child: Luckily Dad seems to get internet connection intermittently throughout his trips so we communicate mostly through WhatsApp and email. Failing that, texting seems to work!
#DINK: We communicate almost completely with emoticons. The cow one gets used a lot.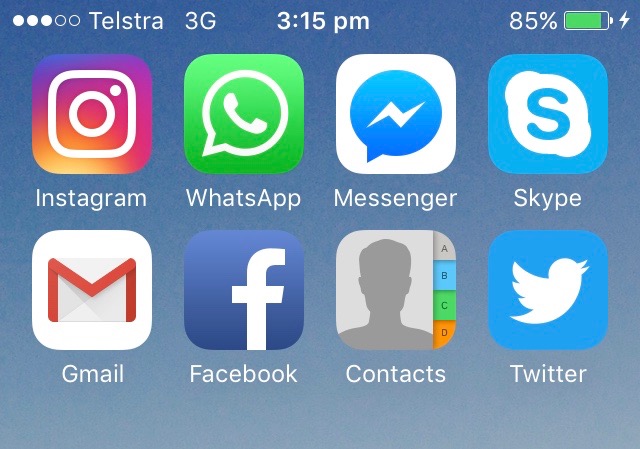 There are lots of options for keeping in touch with friends and family back in Australia
Do you ever feel jealous of your partner's work life?
#ModernDad: Yes for sure! She gets to travel to interesting places and see amazing things. And she gets little 'holidays' from the homefront when she doesn't have to worry about any domestic duties at all (no washing, ironing, cooking, homework supervision, soccer training, trying to be a good parent when tired and alone). But on the other hand I am glad that I don't have the red eye flights, the long car/bus rides on bumpy roads, the long periods away from all family, the tropical heat and humidity and all the other inconveniences and stresses of working in developing countries. I am not an adventurer at heart, unlike my partner.
#YoungMum: I do sometimes feel jealous of my husband's work life. I often get jealous when he is packing and getting ready. Especially when it is winter here in Tasmania, and I would love to be going somewhere warm! When he first got this job, I can remember feeling jealous that he would be going to Vietnam so often as we both share a passion for travel. However, I can see how stressful his job is at times and I know that while he is in Vietnam he is not on a relaxing holiday, and is quite busy every day.
#Child: Not at all! I can't say I've ever fully understood his passion for soil or "good crop establishment", but I've always been proud to think that his work helps people. Ah, although – it somehow worked out that Dad was away travelling (both locally and overseas) for my birthday for quite a few years running when I was a kid, so I've held that one over him 🙂
Do you worry about them when they're traveling?
#YoungMum: I do worry about him while he is away. I always ask him to send a quick text as soon as he arrives to let me know. I know that he is always with his local work colleagues and quite safe though as he is not in an overly dangerous country. The main thing I worry about is traffic accidents as he does a lot of road travel while there, and I have seen first-hand what the drivers and traffic are like!
#Child: I don't remember worrying about him when I was a kid, but I probably wasn't really watching the news or keeping track of where exactly he was. Once or twice in more recent times he's been travelling in certain countries where a more unstable situation has arisen, so you do worry a bit but just make sure you get in touch and check all is ok where he is. 
#DINK: Sometimes, but the reality is that I'm more likely to get knocked off my bike than she is to run into trouble.
Now that you are an adult, what effect has your Dad's career had on you?
#Child: I think Dad's love of travel and working overseas has really been instilled in all of us. Unfortunately for him and Mum, that means the 3 of us kids all live scattered across the world!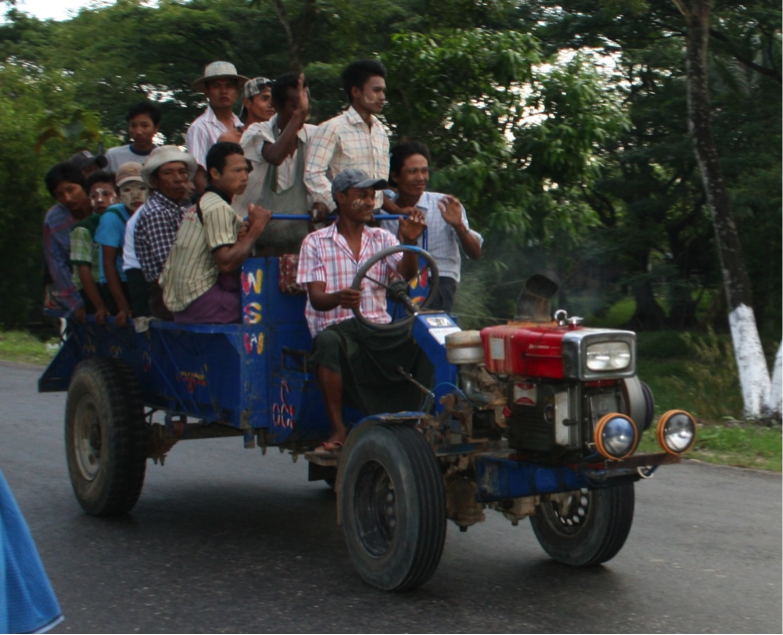 While your friends and family may worry about you while you're overseas, avoiding transport such as this might help quell those fears!