Seeing Change
As a young vet working in clinical practice, in my first 3 years out of uni, I'd already seen change. I'd been lucky enough to have employment in NZ, Australia and China, and been exposed to situations where vets and animal scientists can make meaningful contribution to both animal and human populations.
However, with tendency to get bored quickly, I needed to find a way to accelerate my career and skillset so I had a better chance at other exciting and challenging opportunities. I enrolled in a post graduate course in Vet Public Health. The concept of public health also seemed to fit in with my interest in the 'bigger picture'. I looked at degrees in UK, USA, South Africa, Massey NZ (where I did my BVSc) and Australia. The University of Sydney VPH programs stood out.
In 2010, a research project opportunity arose working with Prof. Peter Windsor, Dr Russell Bush and Dr Luzia Rast on their Australian Centre for International Agricultural Research (ACIAR) funded projects 'Best practice health and husbandry of large ruminants in Cambodia and Laos'. This project was a huge challenge, but very rewarding. I was well supported and remain grateful to my main supervisor (Luzia) and our project leaders as well as the VPH staff whom provided technical input and project management support.
But it didn't end there. Prof. Windsor had a project officer position in Cambodia, so at the start of 2012 I moved back to Asia and began working on the project full time while continuing the degree part-time. Almost immediately, I was to apply newly learned VPH skills. The main aims of the project were to seek sustainable interventions that would improve animal health and production, with the hypothesis that this would in turn reduce rural poverty and food insecurity. We're tackling problems for which there are known solutions in the developed world, but what largely remains unknown, is how to apply these interventions and technologies in countries in transition.
For other young veterinarians and animal scientists looking for new challenges, I would recommend the University of Sydney VPH programs. The strength is in the application as well as exposure to a global citizen classmates, world-class facilitators as well as staff working throughout the region tackling animal health and management and public health issues. Applied research is very rewarding, and for those seeking to enter the research and development I would advise finding a senior researcher within the University with common interests. Find out what skillset they need, and take the appropriate steps. Learn to communicate on as many platforms as possible, whether by new languages, writing, websites, and presentations. Putting some 'management' into change might take you into the unknown, but perhaps that's where you want to be?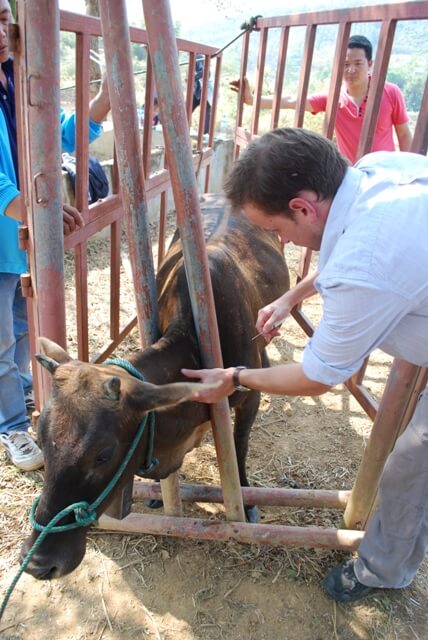 Vaccinating cattle for FMD in Luang Prabang, northern Laos, Feb 2014