I don't love rice but I love rice research
My mate Amila was puzzled. I had just asked him if he ever gets sick of eating rice. I was certainly sick of it. I was halfway through a semester abroad in Sri Lanka and would have sold my soccer boots for a juicy steak. We sat in silence for a few minutes, riding the bus home to the student hostel. Eventually, Amila responded. "If I give up rice, what else do I eat?"
Before undertaking my semester of study in Sri Lanka, I was fortunate enough to complete a three-week internship at the International Rice Research Institute (IRRI) headquarters in the Philippines. IRRI is the largest non-profit agricultural research institute in Asia. On my first day, my supervisor Ann Yom Steel told me that it is the most important organization in the world. Ann might be biased given that she is IRRI's head of strategic planning. Having said that, after glimpsing the work that IRRI does in the Philippines and the impact that it has in Sri Lanka, I reckon she could be right.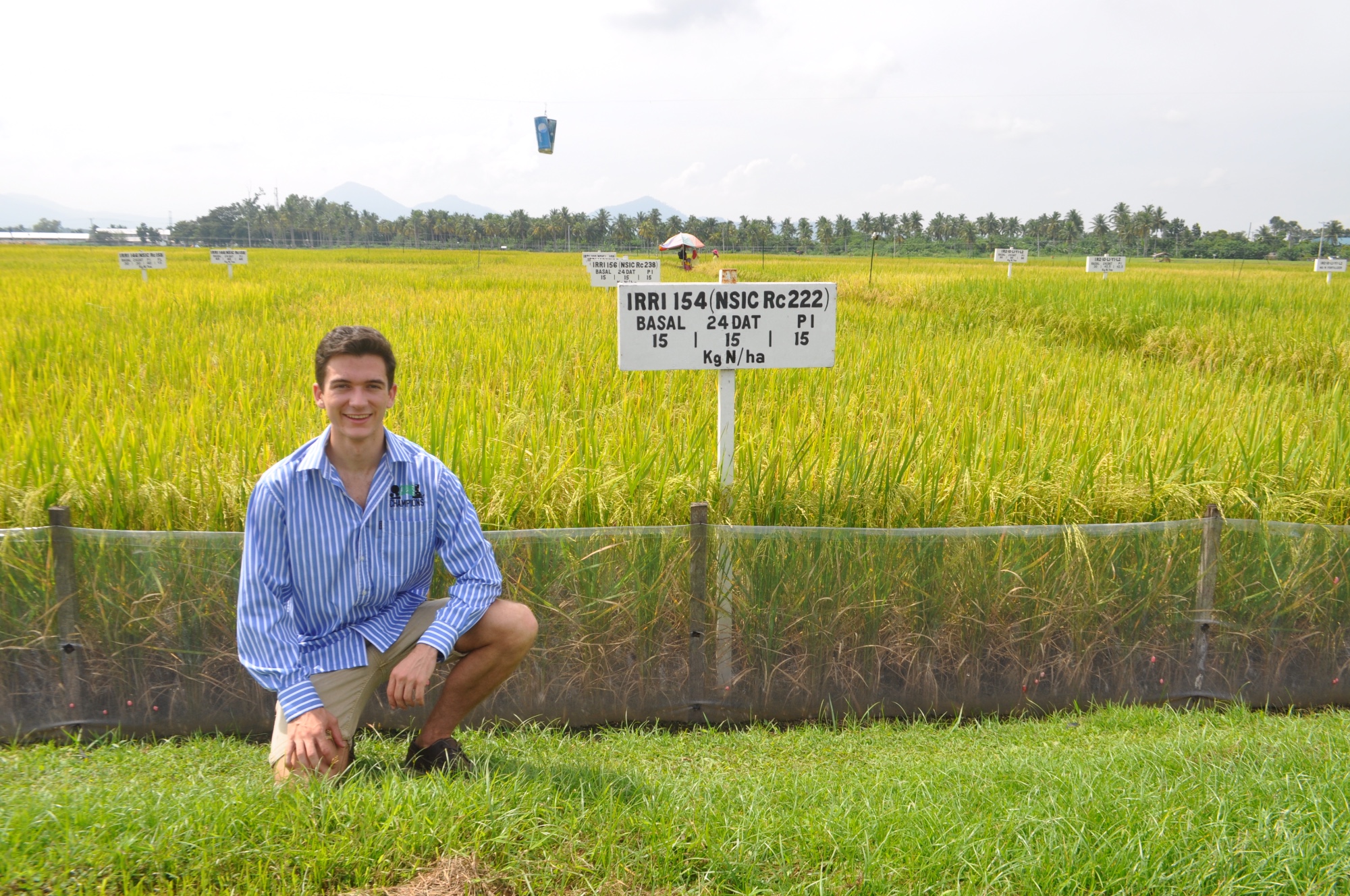 Sam "stoked" to be in a photo with the world's longest running field experiment. Three rice crops have been harvested from the same plot of land almost every year since 1962. The environment remains healthy and productive.
IRRI serves rice farmers, which includes some of the poorest people in the world. The research centre has delivered more than 1000 improved rice varieties to 78 countries, trained more than 15,000 rice scientists, secured more than 127,000 rice varieties in the International Rice Genebank and developed an affordable irrigation strategy that cuts water wastage and soil methane emissions by up to 50%. IRRI's plant breeders, scientists, administrators, networkers, economists and extension professionals continue to work passionately to empower farmers to sustainably grow more high-quality rice using less land, agrochemicals and water.
In Sri Lanka I met Mr H. M. Kudaa Banda, one of the many farmers that benefit from IRRI's work. Mr Banda (70) has cultivated his solitary hectare of terraced rice fields for the last 52 years. With the help of rice varieties developed by IRRI, Mr Banda supports his family, sustains Sri Lankan culture and boosts food security in his community.
Amila (left) and Sam (right) touring the rice village of their other mate Chamara (centre) in Central Sri Lanka. The three of them studied agricultural science together at the University of Peradeniya.
IRRI not only empowers the farmers that grow rice but also the 3.5 billion people that rely on it as a staple food. For example, IRRI is working to support the world's 2 billion anaemia sufferers by boosting the iron content of rice. I was frequently reminded of this pioneering research during my time in Sri Lanka. On the bus ride to the student hostel, my well-nourished Australian leg rested next Amila's malnourished one. The sight sticks in my mind. I hope that Amila will be one of the many people to benefit from IRRI's research.
No, rice research will not overcome all of the world's challenges. Poverty, environmental degradation and malnutrition are complex problems. Tackling them is hard. Even so, I believe that there is reason to be optimistic and to celebrate the meaningful contribution being made by IRRI and broader international agricultural research. I was inspired by what I saw; my experience motivated me to commit to a career in agriculture for international development. A genuine thank you to the New Colombo Plan Scholarship as well as Matthew Morell and everyone else at IRRI. I really am grateful for the opportunity that you gave me.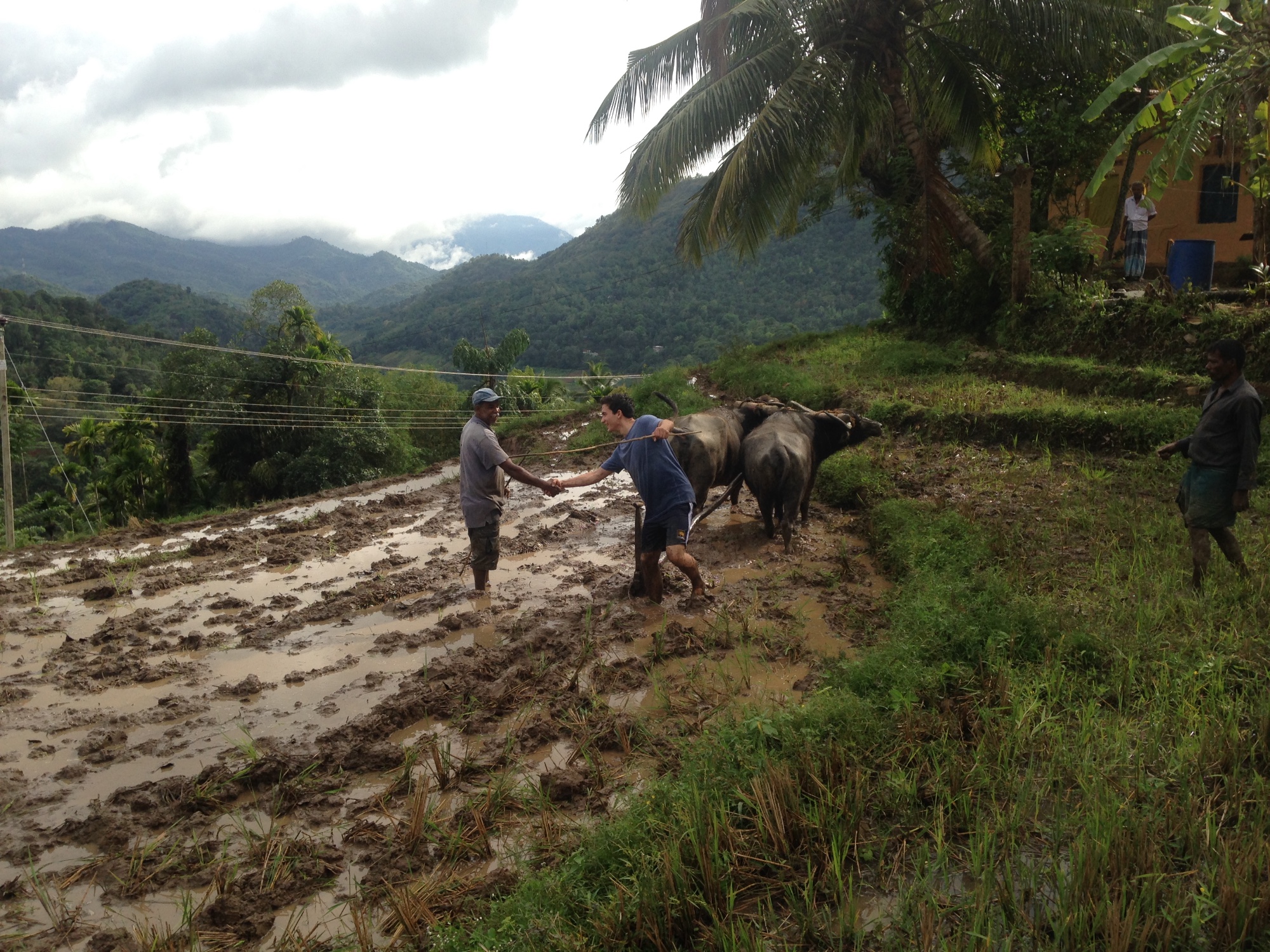 Mr Premasiri ploughs hard-to-access rice fields with his treasaured buffalo. He let Sam have a go but he "was pretty hopeless at it"!