6 months as an ACIAR grad
When thinking about a career in agriculture, most people envisage acres of cattle and miles of fencing. Having myself grown up in a farming community, that's exactly what I thought.
I am now a Graduate Research Officer at ACIAR, and have been for the past 6 months. Before you ask, although an impressive title, what does this role entail and where will it leave me and the end of my time here?
Shall we start with the fundamentals? What is "research for development" and how does a young, university graduate make a career in it? Well I see "R4D" as the research that goes on behind the scenes; to advise, aid, and build developmental pathways which in ACIAR's case, occurs in agriculture in over 36 developing nations.
This role allows you to discover R4D in your own way over a 12 month period; to create your own journey, and, as I was told when I began, "You get out of the program what you put in." I can't speak for others, but for me it was the chance to discover some of the many different aspects of R4D. Like a foreigner in a new land, I have tried and tasted anything and everything that ACAIR has served up.
I'll begin with (the most exciting part on the surface,) the travel.  As I mentioned ACIAR works in 36 developing countries. As part of my work I have been to Fiji, the West New Britain in Papua New Guinea and Baguio in the Philippines – and this is just in the first 6 months. In these countries I have seen projects kick off in inception meetings, acted as a mid-term reviewer for a project and seen the summation of a project at the final project review. I have often described myself as a shadow RPM (Research Program Manager- I really need to find the reference manual of all the acronyms used at ACIAR).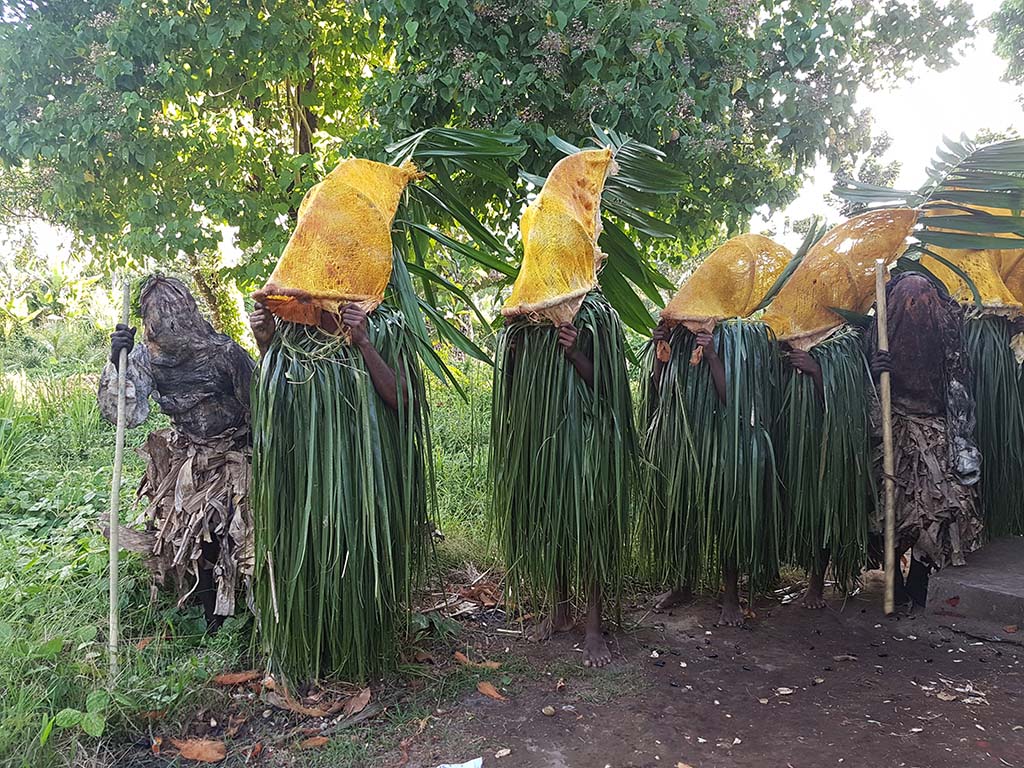 The crazy things we see and experience in the field. "Galip nut men" in West New Britain PNG emerging from the jungle dressed in traditional costume. 
Whilst in these amazing places, Project Leaders often take us on field visits where we get to see the research in action and meet the people at the grass roots; the farmers, the families and the communities that the R4D is aimed at connecting with. These are the faces and places I will never forget. The people that make this work so valuable, inspiring me to pursue a career somewhere in this space where research for development can make a difference.
In my first week, ACIAR had me at Parliament House twice! Even getting up-close and personal with J. J. Bish our former Foreign minister. The conferences, seminars and presentations didn't stop there. I don't think there has been a week pass that hasn't seen me scribbling copious notes from speakers on topics as diverse as "Reshaping agriculture for better nutrition", "Multispecies medicine", and "When and how research has impact",  just to name a few.
Working as part of a team is always listed as a valuable skill on job applications right? Not only do the fundamental principles of the role require us to work in several teams concomitantly, but I have also had the pleasure of working on and being a leader of two different committees. The first, Researchers in Agriculture for International Development (RAID), is a network for early to mid-career researchers to connect with others sharing a passion for agriculture and international development. The second saw me being a co-founder of the ACIAR sustainability committee, Let's Get Sus, which aims to influence the institutional sustainability at ACIAR House in Canberra.
Another invaluable part of being a grad is the technical skills we gain: writing, proposal reviewing and editing, administration tasks like travel bookings and acquittals. All of this has helped (or forced me) to really work on my time management. We are constantly juggling multiple tasks, with different frameworks, all for different countries and all due ASAP. I'll admit we do get under the pump, but the satisfaction you get out of it, makes it absolutely worth it in the end.
All of this aside, for me, the most valuable aspect of being an ACIAR 'Grad' is the mentorship. Not only do we get an RPM to guide, build and support our development, but we also are encouraged to network, meet, and learn from all those we are meeting. I get introduced to people from all walks of life and it's a fascinating, fantastic opportunity.
If it feels like I have tossed an overwhelming amount of information at you, well that's what the role is. It's not for the faint-of-heart. So the answer to my question: how will I make a career in this space? I still have no idea! But having spent 12 months working with ACIAR, I now have a network of connections to draw upon, self-confidence, international experience and an undeniable breadth of skills under my belt that will leave me 10 steps closer to finding that answer.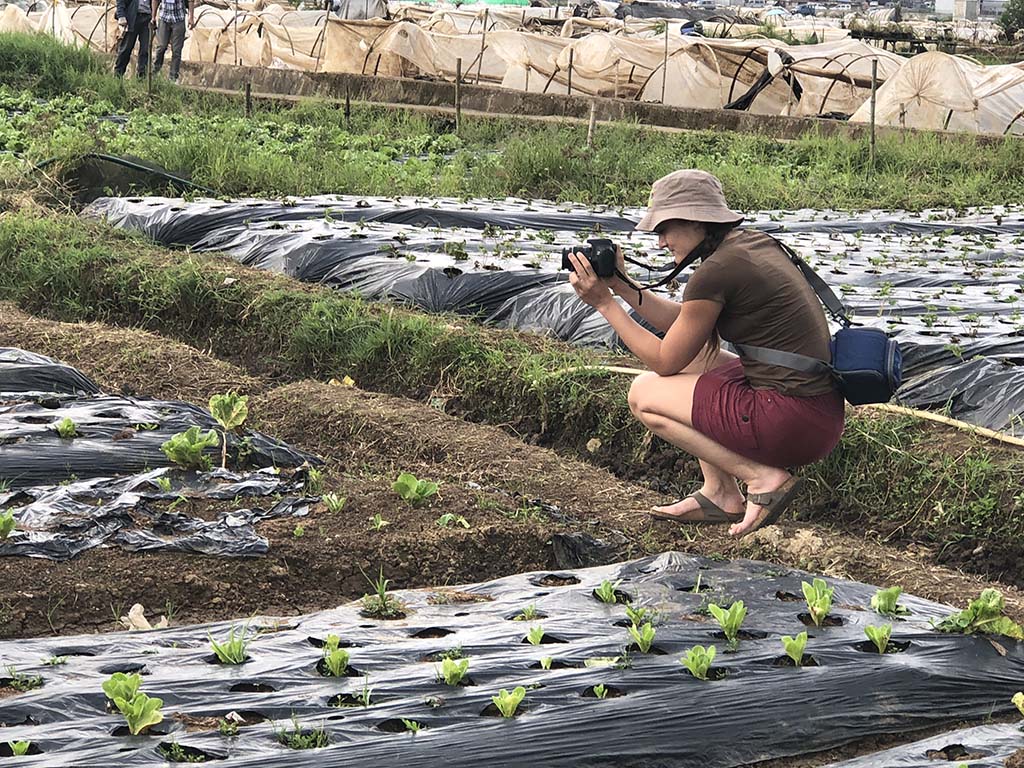 Exploring the local La Trinadad Strawberry fields two weeks post Typhoon as part of an ACIAR project review in the Philippines. The project is investigating how the use of different forms of risk managment and climate information can influence decision makers from the farmers on the ground through to the government extension workers.