RAID WA is hosting a networking event to coincide with a Bangladeshi study tour on Thursday 8 June from 4:30-6:30pm (AWST) at Murdoch University. This is an opportunity for early career researchers in WA to hear about agriculture research for international development, as well as gain insight into agriculture in Bangladesh. The event will include presentations from Dr Hayley Norman (CSIRO Perth), Dr Gaus Azam (DPIRD Perth) and Dr Mohammed Mainuddin (CSIRO Canberra), covering their agricultural research careers as well as their research work in international development.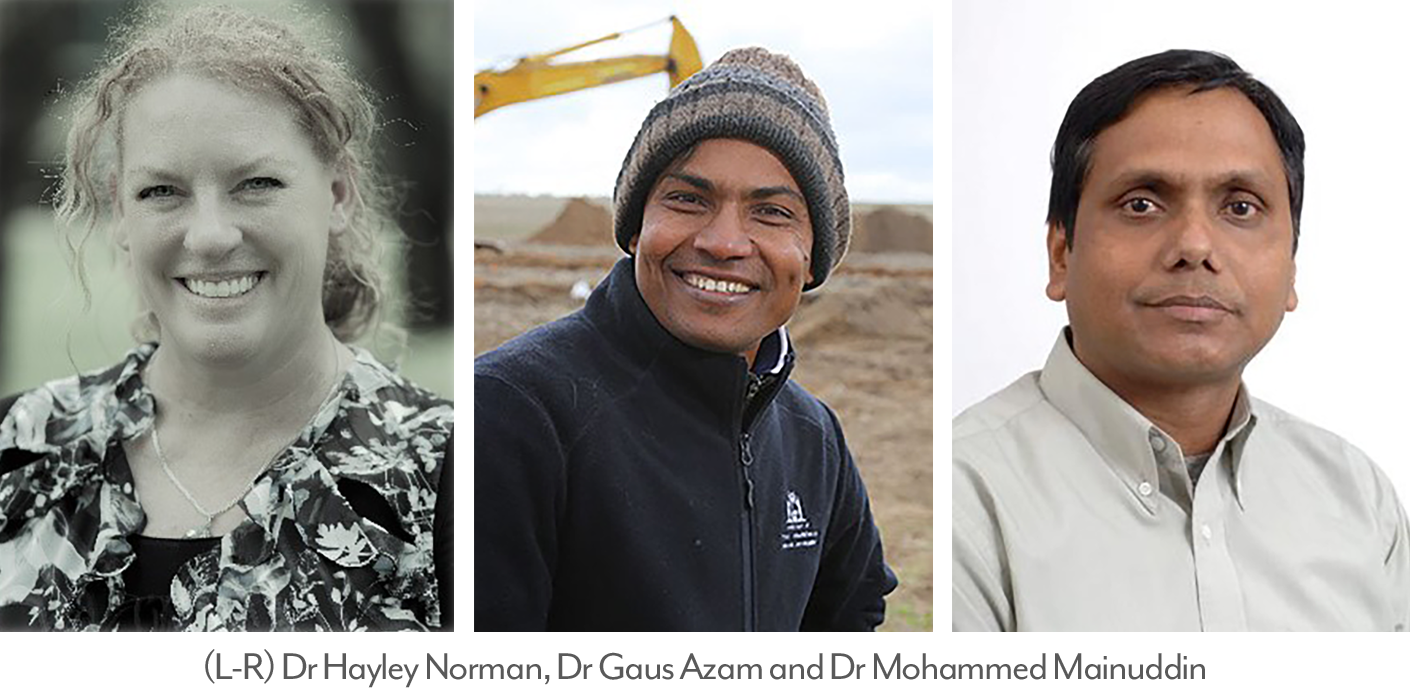 Dr Hayley Norman
Hayley Norman is an agricultural scientist with a keen interest in mixed farming systems within the mediterranean and arid climatic zones. After gaining a PhD in the reproductive ecology of annual legumes, Hayley moved to CSIRO to conduct on-farm research in the Sustainable Grazing of Saline Lands Program. Hayley enjoys participatory research with the aim of solving on-farm problems. She has worked with farmers and smallholders across southern Australia, Iraq, Tibet and Afghanistan. She is an adjunct associate professor at the University of WA, an associate editor for the British journal Grass and Forage Science and sits on the executive of the WA Livestock Research Council.

Dr Gaus Asam
Dr Gaus Azam grew up in a small village in Bangladesh which inspired him to study agricultural sciences in tertiary education. He has completed a Bachelor of Agriculture from Khulna University, Bangladesh and a Master of Agricultural Systems and Engineering from the Asian Institute of Technology, Thailand. Gaus has also completed a PhD in Applied Soil Science from the University of Adelaide. He has been involved in agricultural research for nearly 20 years in the area of soil and plant interactions for improving soil water and nutrient use efficiencies.
Dr Mohammed Mainuddin
Dr Mohammed Mainuddin is a Principal Research Scientist and Leader of the 'Water and Society Team' with the Water Security Program of CSIRO Environment based in Canberra, Australia. Prior to that he worked with International Water Management Institute (IWMI), Sri Lanka and Asian Institute of Technology (AIT), Thailand. Dr. Mainuddin started his research career as Scientific Officer with Bangladesh Agricultural Research Institute. He is currently leading projects in Bangladesh and India dealing with cropping system intensification in the coastal zone, sustainable groundwater management for food security and, improving agricultural productivity.
---
Bangladesh Study Tour
From 4 to 17 June 2023, Professor Richard Bell, Associate Professor Ed Barrett-Leonard and Dr Miaomiao Cheng, are hosting 15 Bangladeshi PhD Fellows at Murdoch University for a training program. The participants are all engaged with one of 2 ACIAR projects in Bangladesh: Cropping systems intensification in the salt affected coastal zones of Bangladesh and West Bengal, India (CSI4CZ), led by Dr Mohammed Mainuddin of CSIRO, Canberra, and; Nutrient management for diversified cropping in Bangladesh, led by Professor Richard Bell of Murdoch University. During the training program, which will be supported in part by the Crawford Fund (WA), they will be visiting relevant laboratories and the wheatbelt to see some of WA's broadacre agriculture.