This is what ag R4D is for me
As I sit here reminiscing about my time when I got to participate in ag R4D I can't stop the smile crossing my face. My time in Cambodia, Laos and Thailand has been some of the best personal development opportunities I have ever been given. Once I had done one trip to southeast Asia I was addicted! Addicted to the people, the culture, the food (apart from rice, yuck) and the work! After some university research trips to Cambodia and Laos I saw a side of agriculture that I wanted to be a part of. I mean who wouldn't mind getting away to a tropical place to see some amazing sites, eat delicious, flavoursome food and maybe indulge in a sneaky cocktail? Now I was experiencing that this can be combined with making a difference to someone's livelihood by aiding them to make sustainable changes to their farming practices. So when I found out that the Crawford Fund had scholarships to go and travel as well as help farmers progress and become more sustainable I was sold!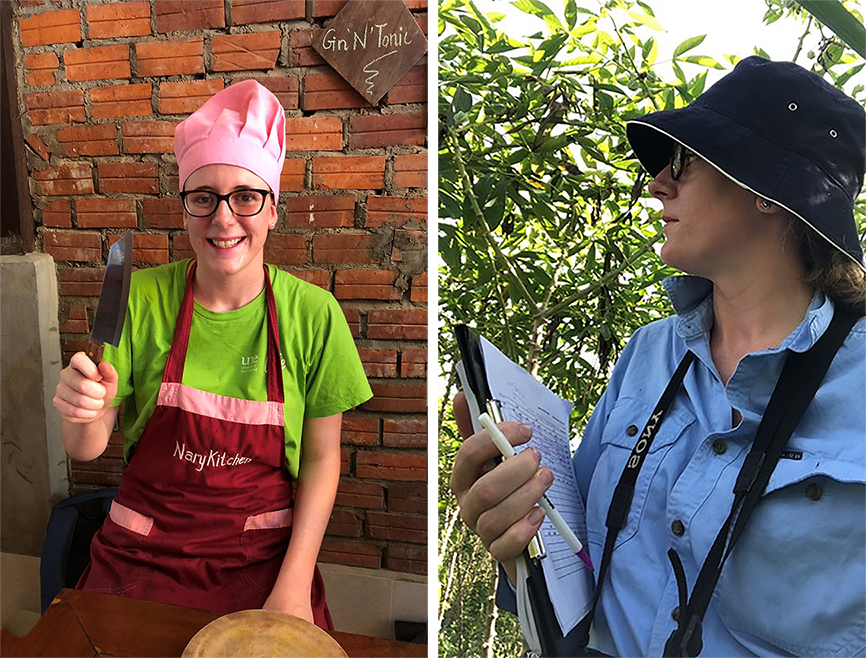 As part of my Crawford Fund Student Travel Award I was lucky enough to be involved in the ACIAR project Uptake of agricultural technologies and best practices amongst farmers in Battambang and Pailin provinces, Cambodia overseen by Dr Stephanie Montgomery. My work involved looking at local orchards across this area for insect and disease pressures. I also investigated the incidence of mosaic virus in cassava to determine how widespread the disease had become in Cambodian crops. I scouted around 20 orchards in my three weeks in Cambodia, where I was able to collect samples to help identify insects and benchmark pressures around the area, including the various fungal and bacterial diseases that were prominent across the orchards, and collate the results. This work was invaluable to the successful transition of moving away from soil degrading, profit minimizing Cassava into horticultural crops. Something that is integral to the continual development of Cambodia.
Many of the challenges during my time in Cambodia  I faced were common for international researchers.  Lack of resources and access to equipment, lack of mechanisation (this is tough… ever hand harvested soybeans?) and access to safe, reliable insecticides and fungicides. Although I had these challenges I felt that they made me more adaptable and a better problem solver. Trying to turn a tin shed into a lab was a really great way to sweat out all the wonderful food I was consuming! It also opened my eyes to the room for development in this country, compared to Australia where we often take these for granted.
My personal challenges included acclimatising to the humid conditions with a heightened sensitivity due to malaria medication. Tip number 1, always have at least 100 more litres of water than you think you need! My limited Khmer made it difficult to explain what I was doing in a local's orchards with my clipboard and blue insect net, but I quickly had a routine to show them I meant no harm to their fruit, it helped that Khmer people are also very friendly and curious people. When I go back I am definitely learning as much Khmer as possible…  Susadei, Arkun.
I was very lucky to not only expand my knowledge of agricultural systems and learn new farming practices, but I was able to immerse myself in the Cambodian culture, being away from the usual touristy areas of Siem Reap and Phnom Phen. I even got to experience a traditional cooking class at Nary's Kitchen, in fashion and using snake as the main ingredient… yum?
You will never know an adrenaline rush until you ride a bike through a 4 way intersection at peak hour traffic, just close your eyes and hold on! This was just a regular for me to get to work each day! I began to feel quiet at home with my little spot in Battambang and was devastated when it came to an end. Since my experiences I am desperate to get back and continue to make a measurable difference to people's lives. I want to thank the Crawford Fund for giving me this opportunity to participate in this program, it has given me a once in a lifetime experience that I think about every day. This is what international agricultural research is for me.