IFAMA 2020: Food for the Future Conference
15 Jun 2020
to
18 Jun 2020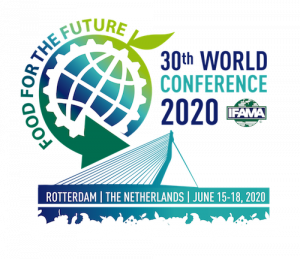 Rotterdam, the most innovative food hub in the Netherlands, invites you to join IFAMA 2020!
Despite being small in size, the Netherlands is the world's second largest exporter of agricultural products and its dynamic agrifood and horticultural sector excels in the field of innovative and efficient production. Renowned academics and students collaborate closely and successfully with food entrepreneurs and local government in a triple helix, creating a breeding ground for innovative solutions.
Societal challenges and global goals require companies in agrifood to transform, securing their daily operations and future strategic outlooks. At the IFAMA 2020 conference in Rotterdam, home of the biggest port in Europe, today's pressing food and agricultural challenges will be addressed drawing upon the triple helix expertise of academics, business and government.
IFAMA 2020 will focus on the following five themes:
Agrifood Clusters for interaction, cross-fertilization and (joint) innovation
Global distribution networks and logistic hubs in a global value
Agrifood ecosystem dynamics and shared values
Consumer-centric solutions to make smarter choices for better health and sustainability
Resilience of (emerging) food markets for a growing world population
This four-day event will bring agrifood professionals together from all over the world to connect values and accelerate innovation. IFAMA 2020 is for agrifood professionals of today, but certainly also for the next generation of young professionals. 
Join us at IFAMA 2020 Rotterdam to meet agrifood game changers and young talent, visit hi-tech greenhouse complexes, farmlands and agrifood companies. Have a sneak preview of what the 'Food for the Future' will look like from the perspective of one of the most innovative countries in the world.
Important Dates:
15 October 2019: Paper abstract submission deadline
13 January 2020: Full paper submission deadline
16 March 2020: Deadline application student case competition teams
More information: https://ifama2020.org/